The bones of a room are the starting point for good design….everything else flows from there. We're talking about period features, floors, ceiling height, windows, natural light….and doors. If you've never really taken much notice of your interior doors, take a closer look!
Switching up your boring old standard doors for a sliding barn door will not only transform the feel and functionality of any room but add so much extra space. Bi-folding and sliding barn doors are a fun, contemporary alternative to standard swing or pocket doors injecting cool-factor to both modern and traditional interiors schemes alike.
We sell some of the highest quality sliding barn door hardware in the UK. Whether you are an interior designer looking for exciting new products, a property developer wanting to add value or simply refreshing your interior, here are 10 internal sliding door kit ideas for every room in your house….
Space saving sliding doors
Sliding barn doors are a space saving dream! If you live in a small apartment or are renovating a studio flat, adding a sliding door gives you the opportunity to create an extra room or storage option.
Sliding barn doors make amazing room dividers whether for an extra bedroom, hiding a kitchenette or a utility room full of domestic appliances.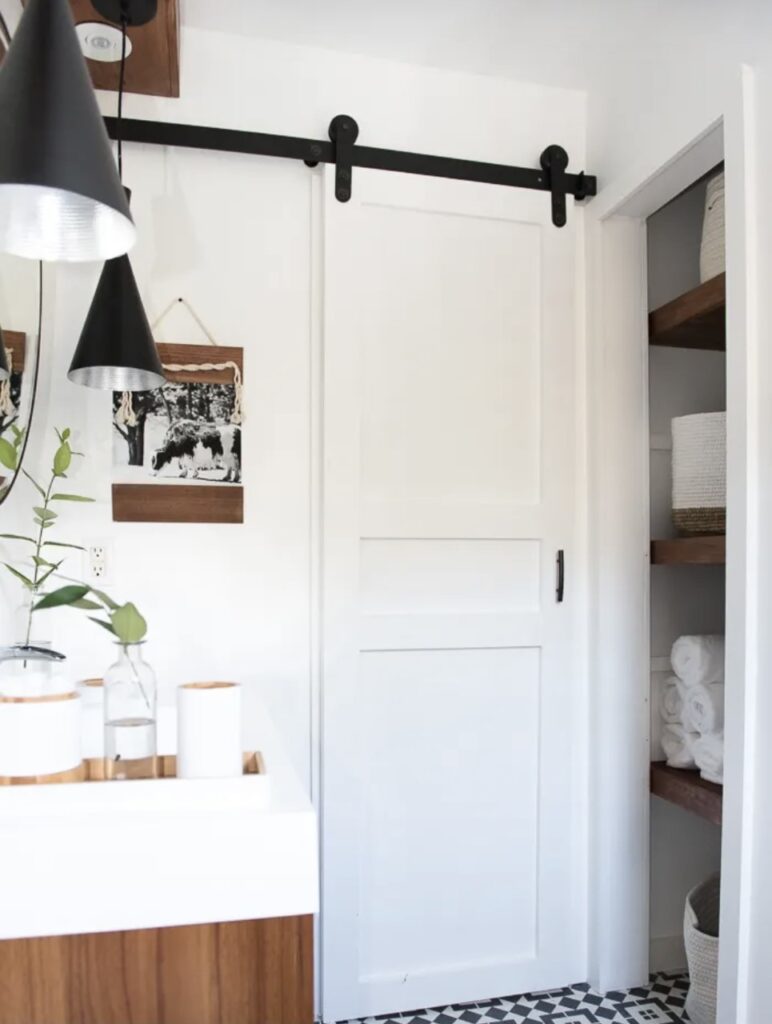 Dressing Room sliding doors
Many of us think of a dressing room as a luxury, but they're easier and cheaper to factor into your home than you think! Our range of door hardware kits will allow you to create a dedicated space for your clothes, shoes and accessories….or even just your shoes alone! Our sliding barn door kits are simple in design, and our single or bi-folding barn door kits have more of a traditional feel whilst still being ultra space saving.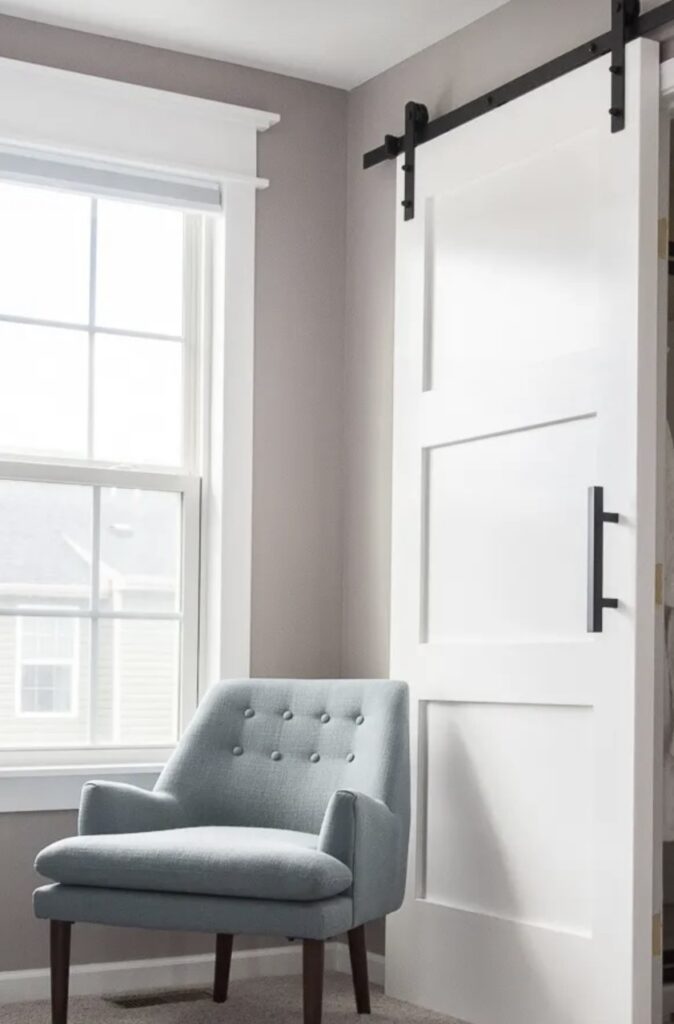 Wardrobe Sliding Doors
Struggling for space in your bedroom? Sliding barn doors for wardrobes are more popular than ever for this very reason. Without the need for a big door swing, simply install our sliding barn door mounting hardware along a large or small wall area for a super efficient wardrobe solution!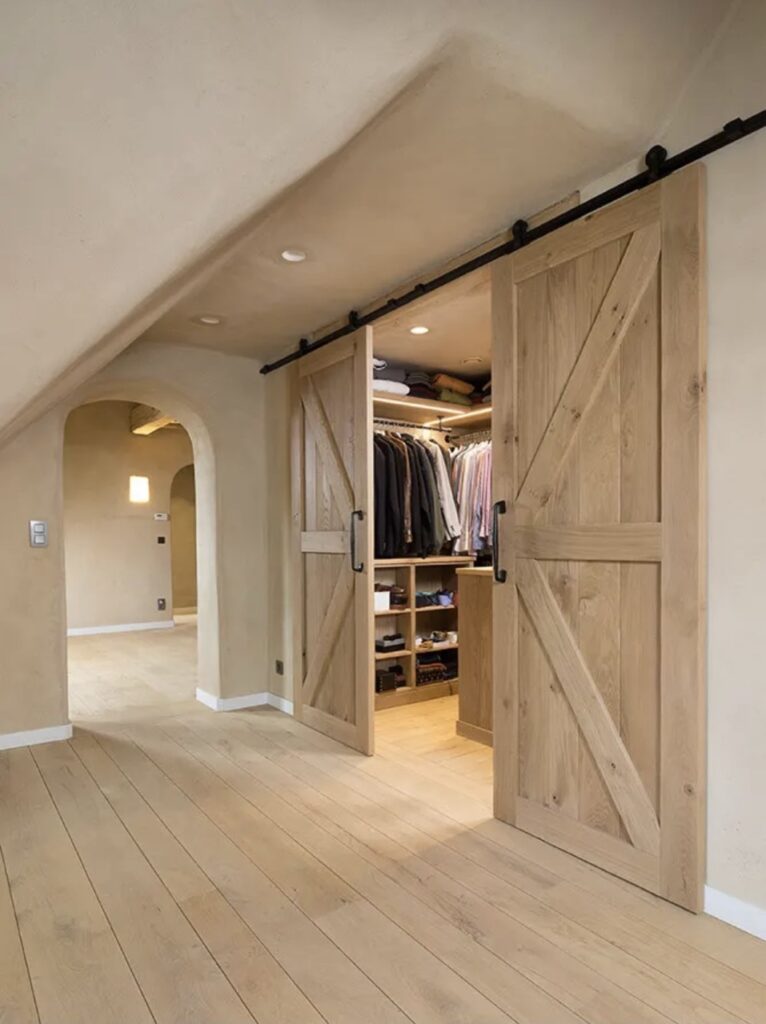 Larder sliding doors
Fancy a pantry? Larders and pantries are fast becoming the on-trend interiors addition of 2021. By incorporating a pantry alongside your kitchen, you will actually create more space for eating and entertaining in the heart of your home. Remove some of those cluttered cupboards and design an efficient larder space with a library ladder (link) to reach those top shelves. Choose from black or brass rolling barn door hardware kits with a nod to an industrial era for your pantry barn style sliding door.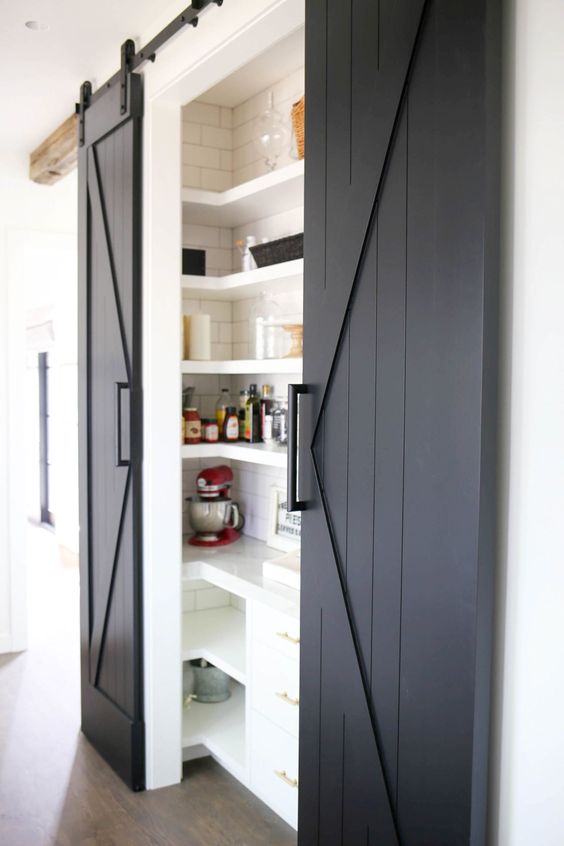 Bedroom sliding doors ~ creating an extra bedroom
One of the best ways to add value to your property is by adding another bedroom. Our sliding barn door kits will enable you to partition off an area suitable for a bedroom – be it downstairs, upstairs, in an extension or mezzanine. There are no limits to where you can use our rolling barn door hardware – only a flat wall at door height!
The image illustrates a newly created bedroom off a living area by using our neat bi-folding door kit.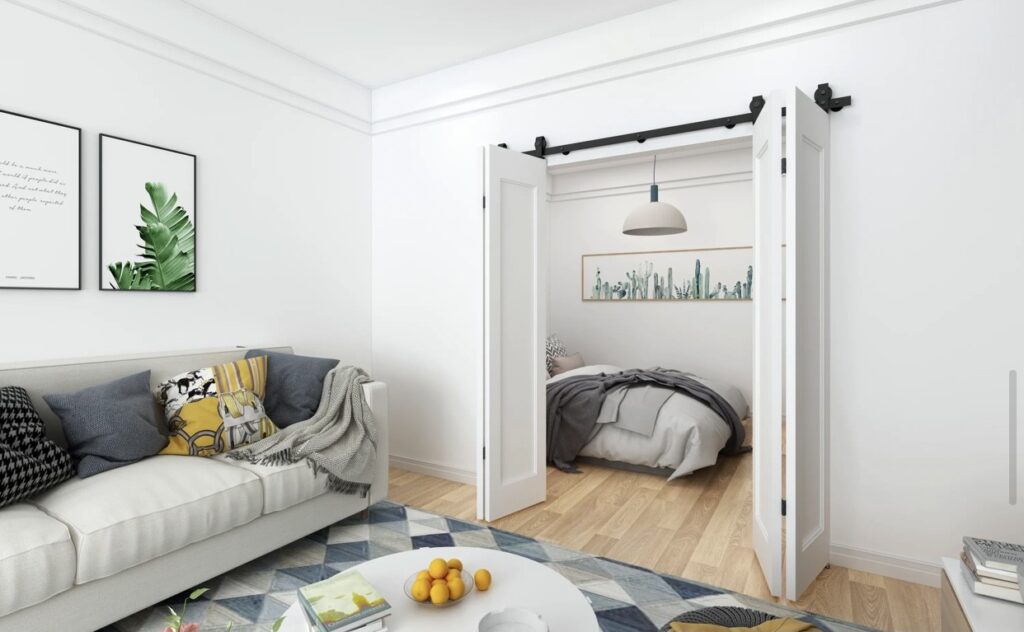 Utility Room sliding doors
It's no surprise that creating a utility room was one of the most popular interior design additions in lockdown. With all the extra domestic responsibilities, it made sense to design a space which efficiently caters for washing, drying, cleaning….and somewhere to store mops, buckets and brooms. Not only will your utility room allow for greater productivity, but you'll be able to hide everything behind a sliding barn door.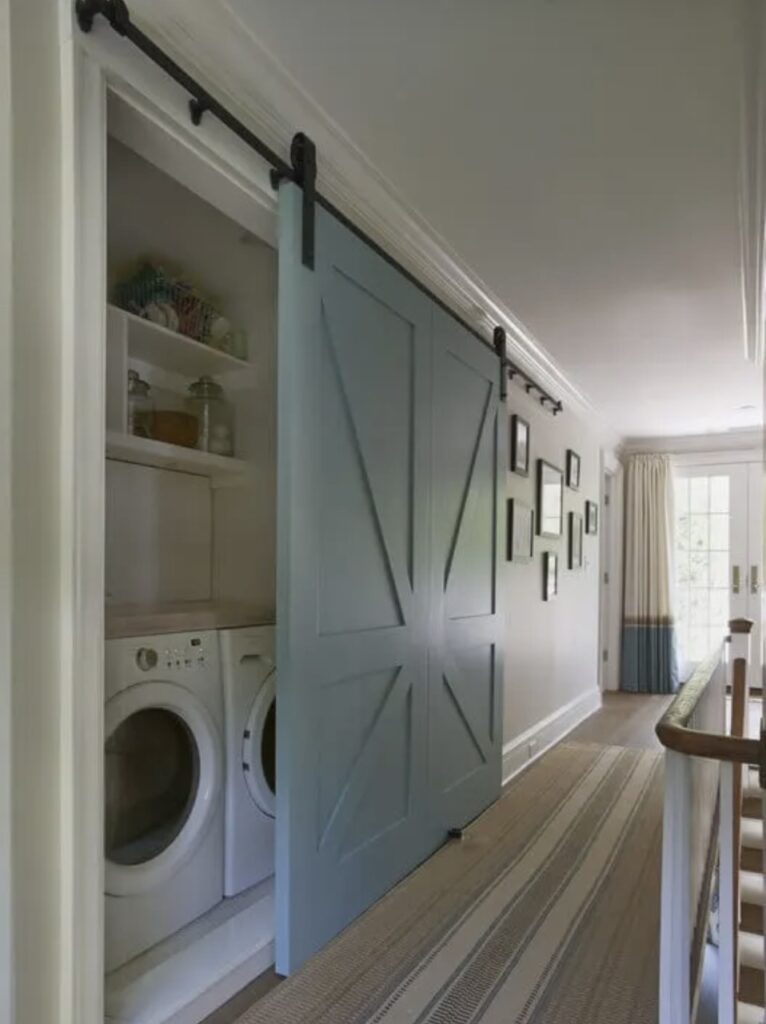 Home office sliding doors
Working from home? Of course you are! Put an end to perching on the edge of the kitchen table, fighting for space on the kitchen island or crammed into the corner of your spare bedroom. Now is a great time to create a 'cloffice' or closet-office.
A home-office is a great investment both in terms of your own comfort and productivity, but also for the value of your home. Anyone looking to buy will require an office and if you've already provided that space by using a sliding barn door partition then you're ahead of the game. Our single and double bi-folding barn doors add a slightly more conventional look, achieving the same effect.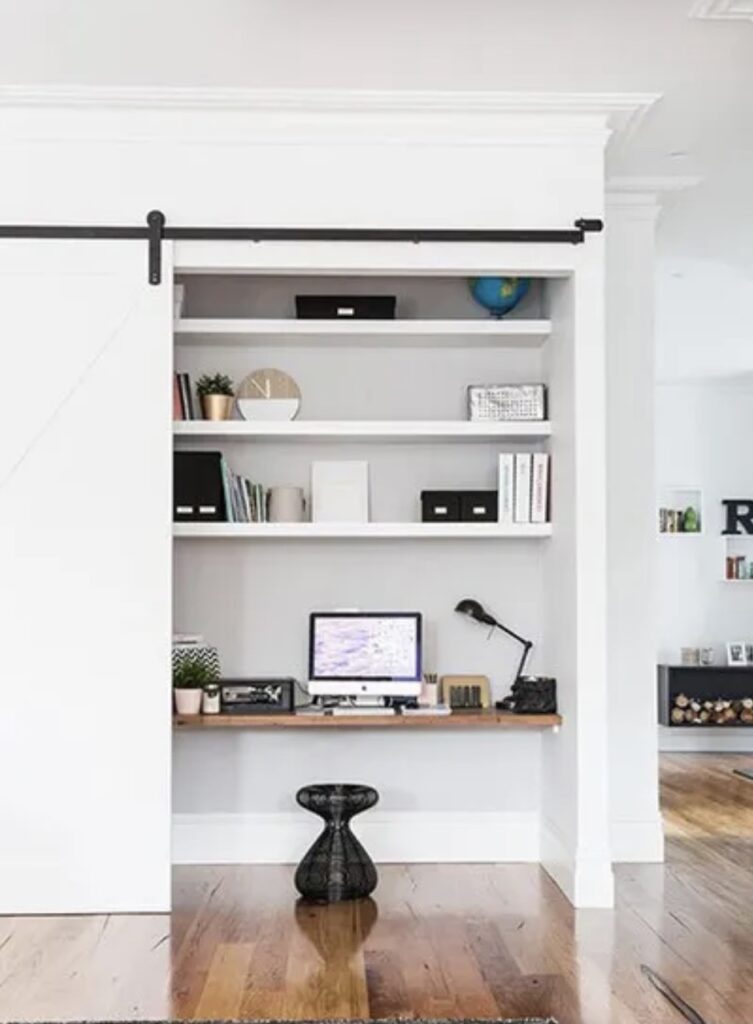 En-suite sliding door
Adding an en-suite bathroom to your home is both a delicious luxury and a savvy investment. It may be time to give your teenager that long overdue privacy or create a sanctuary for relaxation at the end of each day. Either way, you can build an en-suite in the smallest of spaces, being careful to avoid unnecessary door swings by using a sliding barn door or bi-folding barn door. The same concept as a pocket door, our rolling barn door hardware is mounted near to the ceiling and offers a classy alternative to your interior.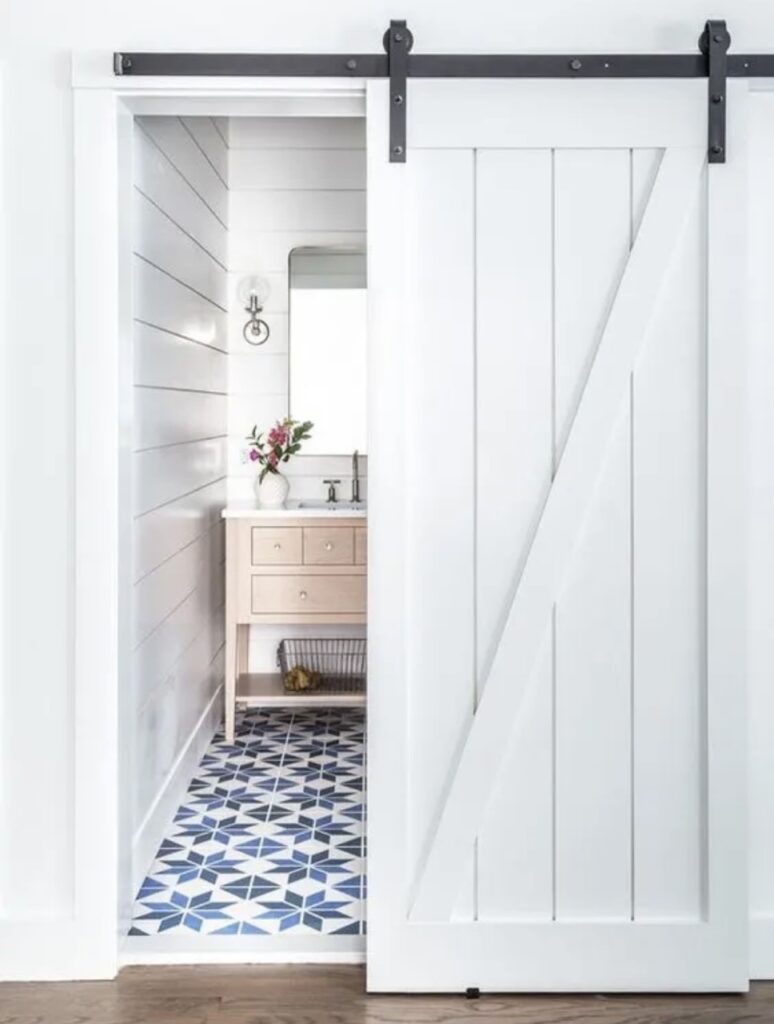 Children's playroom sliding door
One thing that no-one can argue with is that tidying away the toys at the end of the day is necessary before anyone can sit down and relax! For this reason it's essential to factor in decent storage into childrens bedrooms and playrooms. One easy way to do this is by hanging bi-folding or sliding barn door hardware thus creating tons of cupboard space. All those well-loved toys and boxes of lego can be neatly hidden away at the end of each day, ready for another day of chaos in the morning!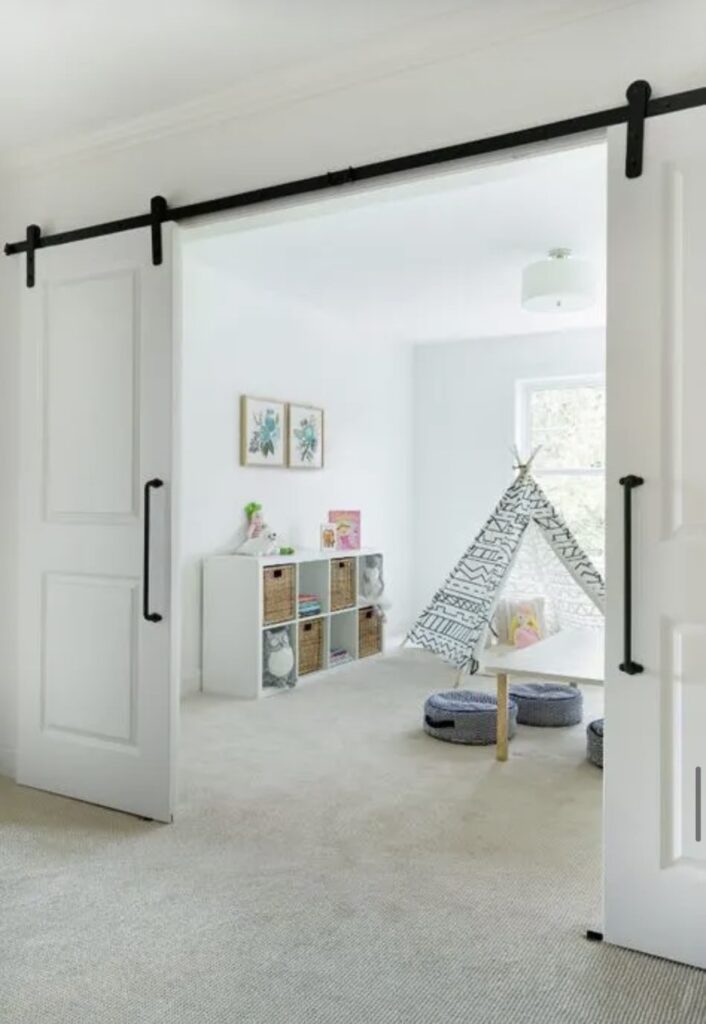 Bootrooms or Mudrooms
Bootrooms are seen as an unnecessary when space is often at a premium. But we can all recognise the practicality of a dedicated coats, boots, pets room. Not only does it keep all the mud and fur contained, it provides an opportunity to organise rugby boots, wellies, umbrellas and leads on pegs and in footlockers.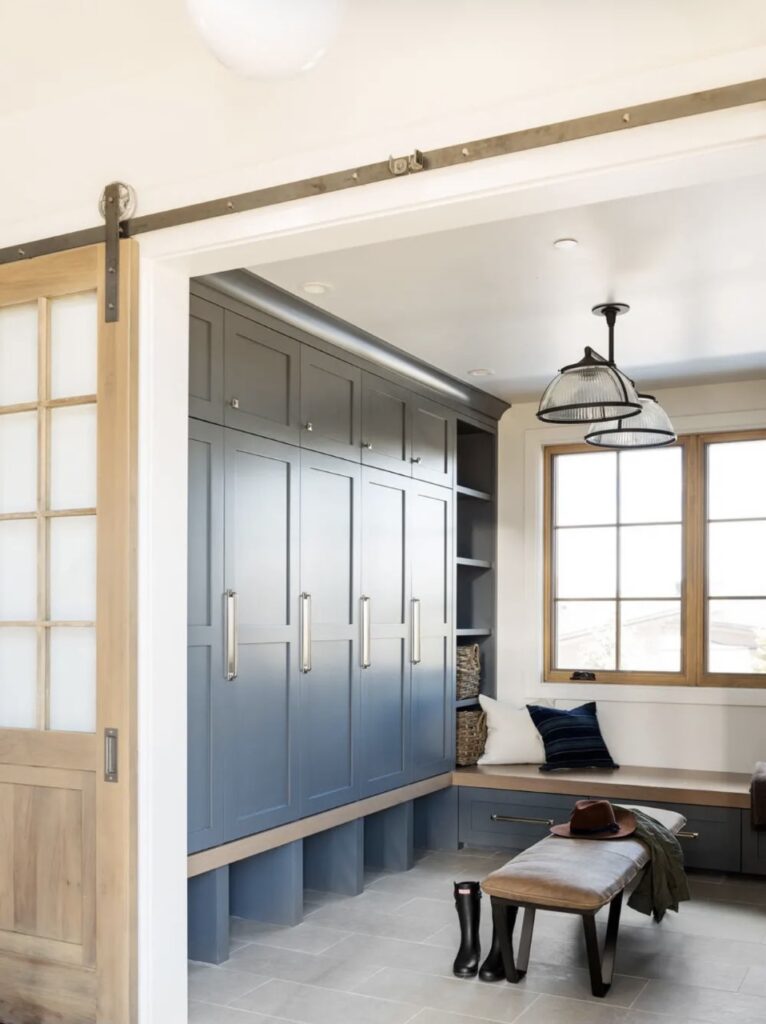 Sliding doors as room dividers are a no-brainer. Cost effective, easy to install, space saving and stylish, you'll have your children's rugby boots organised in no time.
When you need some extra help
We are here to advise and offer personalised quotes so please get in touch at [email protected]
All products are available to order online at www.llcompany.co.uk
If you would like to commission interiors copywriting, get in touch here.