The discipline of keeping a sketchbook and why it's an important ritual
The past year has imposed a period of reflection of our lives and working practices as both humans and artists. You will likely have increased your output whilst being at home, with more time and possibly more commitment to drawing and painting than ever before.
Daily rituals have become pillars of our sanity, keeping us on an even keel, regulating long days at home either on our own or juggling family needs. At the time of writing, we are still in full lockdown with normal schedules in flux. The whole country is clinging on to a day by day existence, without the luxury of planning ahead and with no assurances for the future.
Daily ritual of drawing
It therefore, seems apt that along with my Case Study, artist Kerry Phippen, we are exploring the daily ritual of sketchbooking. Kerry describes it as a marker in her day, a non-negotiable activity that acts as a visual diary propelling her forwards, "the importance of just starting something and the discipline to show up with your materials and some paper. "
Whether you are a professional, amateur or new to drawing, there are many benefits of this daily regimen. On average it takes 2 months for a new behaviour to become automatic, so give yourself some time to enjoy the process and don't give up too soon. After a while, it will become second nature and your drawing will improve exponentially. A focused activity such as drawing will absorb your thoughts and give you a break from the stresses of daily life.
Freshness & Immediacy
If you are stuck in a rut or feel your artwork is stale, the process of regular drawing will allow you to explore themes that you may not have considered. "I had been thinking about the freshness and immediacy of my sketchbook and missed that expression and freedom in my studio work," explains Kerry. Sketchbooking took her out of her 'stuck place' whilst committing to 365 days of drawing presented a positive goal.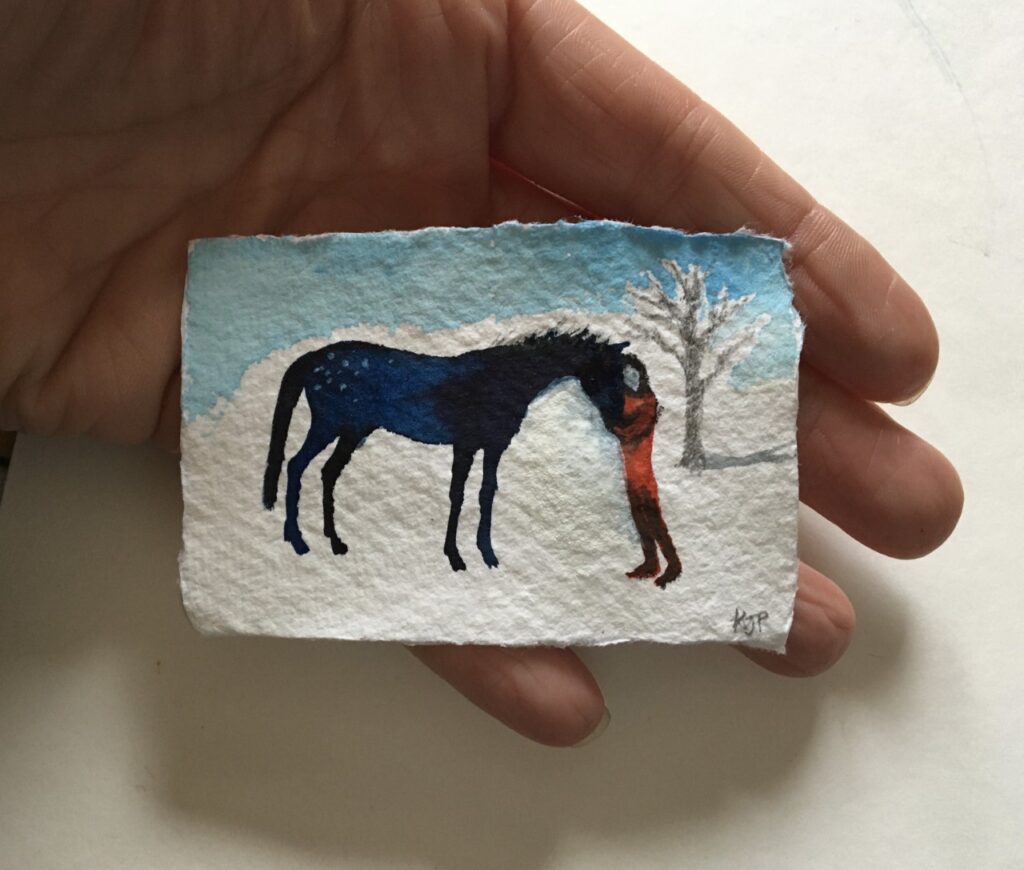 Daily drawing also challenges the 'blank canvas syndrome' – a very real hurdle for many artists. Your own private pages allow unbridled experimentation, mark making and exploratory work without the fear of making mistakes or creating finished works. Freeing your mind of barriers and tapping into your subconscious is an important part of the creative process. In a recent BBC2 documentary following the life of Maggi Hambling, the artist offers an insight into the ink drawings she makes early each morning – they are led by her subconscious mind, her thoughts leading her hand wherever it wants to go, scrawling incoherent inky marks across her sketchbook. She insists that this process opens up her mind and guides her work.
By adding notes, feelings and dates to your drawings it will help you to look back and reflect as the months pass. The sense of achievement in filling a sketchbook and witnessing your techniques improve will buoy you up to keep going. As a highly personal document, your pile of sketchbooks will grow to become a treasured archive.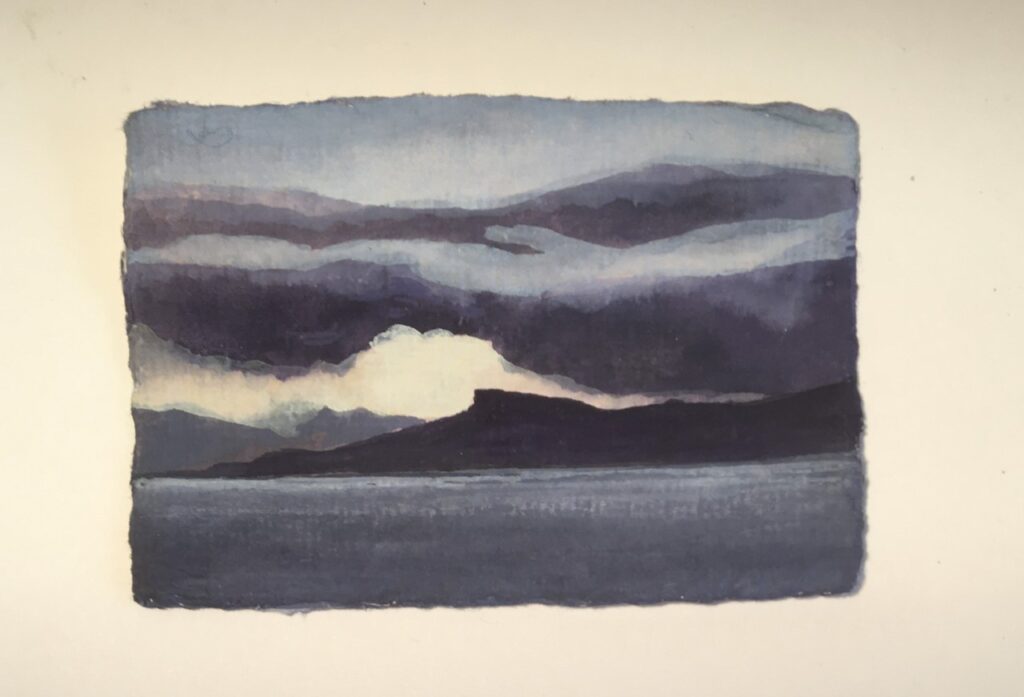 Five very good reasons to begin sketchbooking today:
Drawing every day forms a habit – one that you can enjoy for years to come
Regular drawing will rapidly improve your skill level and observation
It challenges the fear of a blank page and will give you greater confidence
Your sketchbooks will act as a visual diary allowing for reflection over a period of time
Join forces with an artist friend, enjoy collaboration and reaching a goal!
Why do you think daily drawing is important?
Curiosity and I just really enjoy it. Even when I'm not physically drawing, I'm thinking about what to draw next.
Where did the idea for your 365 days project come from? And what did you learn along the way?
I had, for years, used a sketchbook for most of my ideas and imagery. Then I had years of not using them so often, and would go straight to the studio to do 'something proper' or more finished. I had been thinking about the freshness and immediacy of my sketchbook and missed that expression and freedom in my studio work. I had a conversation with an artist friend who was feeling in a similar, slightly stuck place, so we came up with an agreement to have a goal of daily drawings. The way to keep track and be accountable to each other (like a training buddy) was to use Instagram and tag each other. A year seemed like a worthwhile commitment.
How has the experience influenced your work since?
The experience has reminded me about the importance of just starting something; and the discipline to show up with your materials and some paper. On days when I was really tired, or not free until late in the evening, I would still have to start something and more often than not, I would end up becoming involved and really interested in what was happening.
The important thing about the experience was not having the luxury of time to make a grand plan or overthink, you just have to do something every day.
I have drawn horses for as long as I can remember and still love to look at them. I live in an area where horses are in the fields nearby and if I fancy it, I can simply head outside and sketch them. During the sketchbook year, I also did several landscapes and seascapes using charcoal, or gouache – this was interesting to me, as I had never thought of myself as being particularly a 'landscape' artist. But I guess, no matter what the subject matter is, it's about what you love or feel an emotional connection with. That could be your dog, or just looking at a certain tree or hill. I was born and brought up in Scotland, and many of the landscapes I am drawing and painting are from the North West Highlands. I still find it very beautiful there.
Do you draw instinctively or do you like to plan?
A bit of both definitely. In my sketchbook, I do allow myself to go off piste and play and this is often to amuse myself. With my studio work, I do make a plan but it stills gets pulled away by my imagination, as soon as you make that first mark, you are in a conversation about how to continue. It is often instinctive, and sometimes I have to take a step back and leave it for a few days to see what I need to do next. Some images reveal themselves quickly and others are much more paced.
What part does/did social media play in your daily sketch booking?
The decision to use Instagram for daily posts, was initially a way to prove that the daily 'task' has been done. However, this quickly took on a different dimension, as the followers and supporters grew and the encouragement, likes, etc boosted the momentum and encouraged me to keep going. I then felt like I also needed to show up for them and keep putting in the effort, as I really appreciated their lovely feedback. Instagram helped a lot!
At the same time as doing the daily sketchbook, I had started another project painting tiny landscapes on miniature khadi sheets. After the sketchbook year finished, I continued to paint these tiny paintings and began to post the tiny landscapes for sale on Instagram. I then posted tiny horses too, and many have found new homes which is very exciting – both of these collections are a direct result of doing the sketchbook challenge
You can follow Kerry Phippen on her social media channels
Twitter @kerryphippen
Instagram @kerryphippenart
Facebook @kerryphippenart
All artwork available to buy online at www.kerryphippenart.com
Get in touch at info@kerryphippenart.com
If you would like to commission copywriting then get in touch here.