An exhibition by Andy Lovell – corkscrews and bendy Americans
A few weeks before agreeing to write this piece, I spent an evening at The Painswick Hotel. Hanging above the fireplace in the snug room, were two beautiful prints of local scenes, depicted in hues of subtle greens and greys. I had been admiring Andy Lovell prints without even knowing it.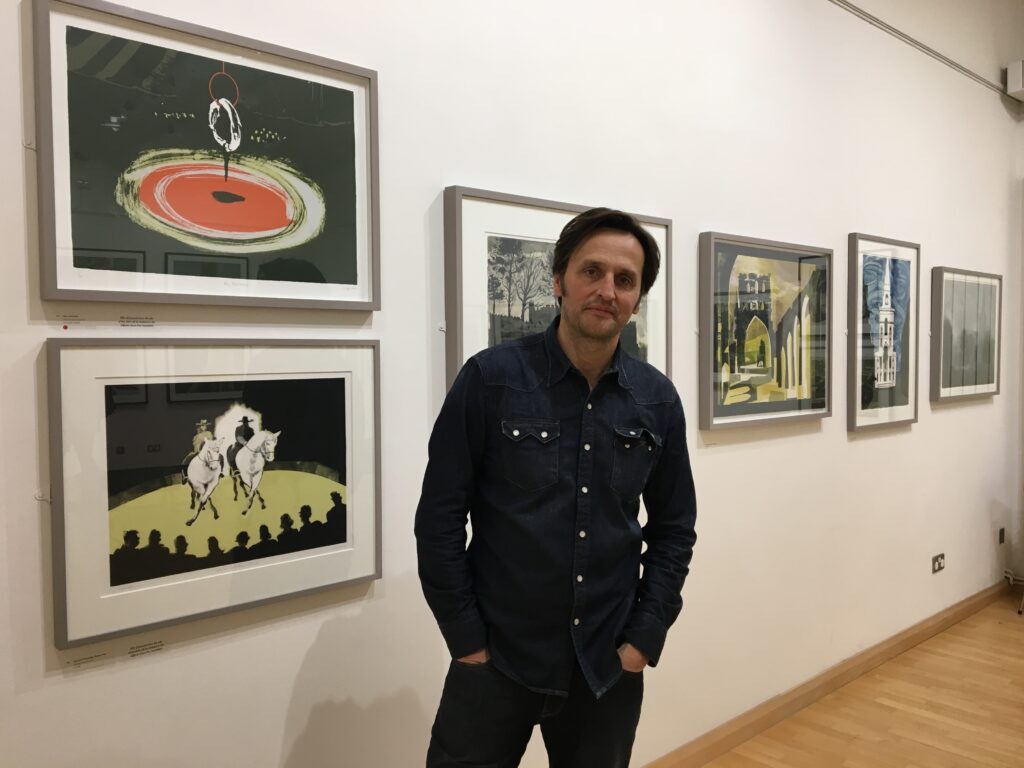 When we meet today at Museum in the Park, Andy's prints look fresh and vibrant, in contrast to the dreary, grey skies outside. The spacious gallery is buzzing with Stroud College art students, happily sketching Andy's work. There is a gentle hum of creativity.
Shifting
'Shifting' is a culmination of three year's work – taken from hundreds of drawings made en plein air, all over the country (Norfolk, Gloucestershire, Cornwall, London) and boiled down to sixty four stunning monotypes and screenprints 'taken from land, the sea and all in between.' All limited edition pieces, each one unique, prices range from £240 to £1,400 – they are wonderful, affordable and covetable.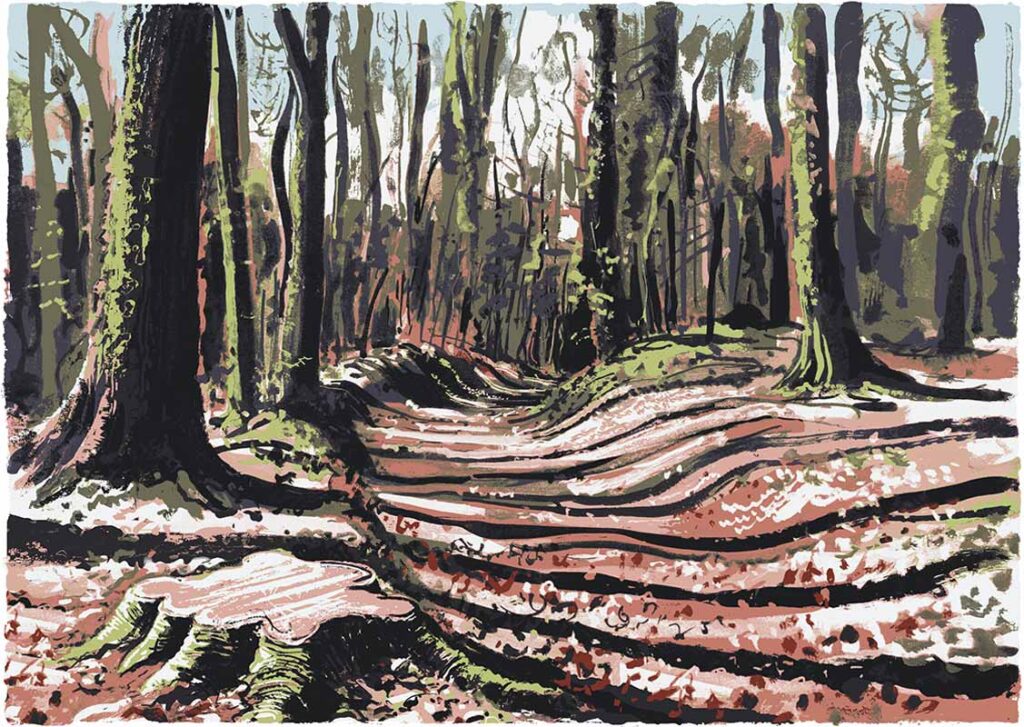 The title of this exhibition reflects Andy's own artistic journey – his drive to draw and paint, using a multitude of skills acquired from a career in illustration and image making. There is plenty of texture and movement in his work and the use of colour is sensitive, sometimes bold and always considered – layer upon layer of subtleties.
Flourescent trees
"I got obsessed with the trees on my daily dog walk – they turned into a series of six very large works entitled 'Arboreal' (I – VI). Even on grey, dingy days, the colour of the bark was luminous, almost fluorescent. I felt compelled to try to convey the power and might of these enormous trees through isolating and abstracting them – I was drawn to the exposed trunks that resemble dinosaur feet."
Trees, of all size and shape, are certainly a strong theme throughout this exhibition. 'Walking Wood' portrays neat avenues of birch, standing to attention like dutiful soldiers. There is a drama between the symmetrical man made planting of these tall trees and the untamed landscape beyond. In 'Early Morning Mist' the full and conical trees shiver in the cold morning fog, while the 'Norfolk Trees' are Van Gogh-esque with their swirling arms and brooding skies.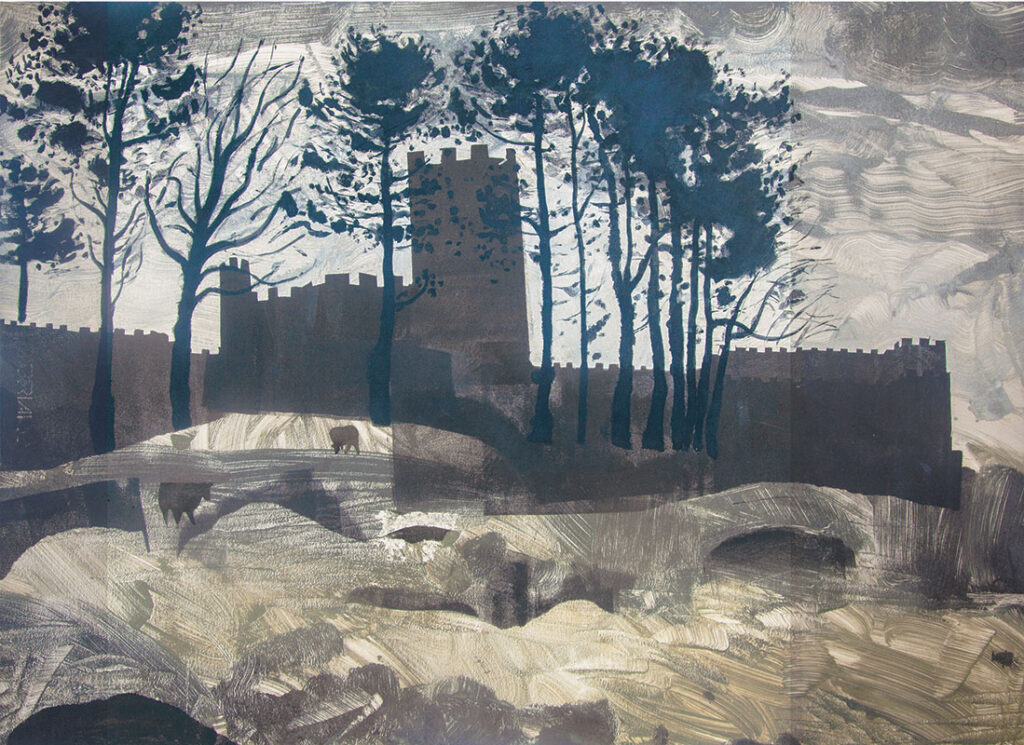 Swifts Hill, Stroud Valleys
There is plenty here to connect you to Stroud and its surroundings – 'Dusk, Rodborough Fort' is my patch and a favourite walking spot, 'Sunset Swifts Hill' in glorious Slad and 'Woodchester Woodwind' (selected for RWA Open 2016) all evoke treasured places right on our doorstep. And of course, the much loved Gifford's Circus.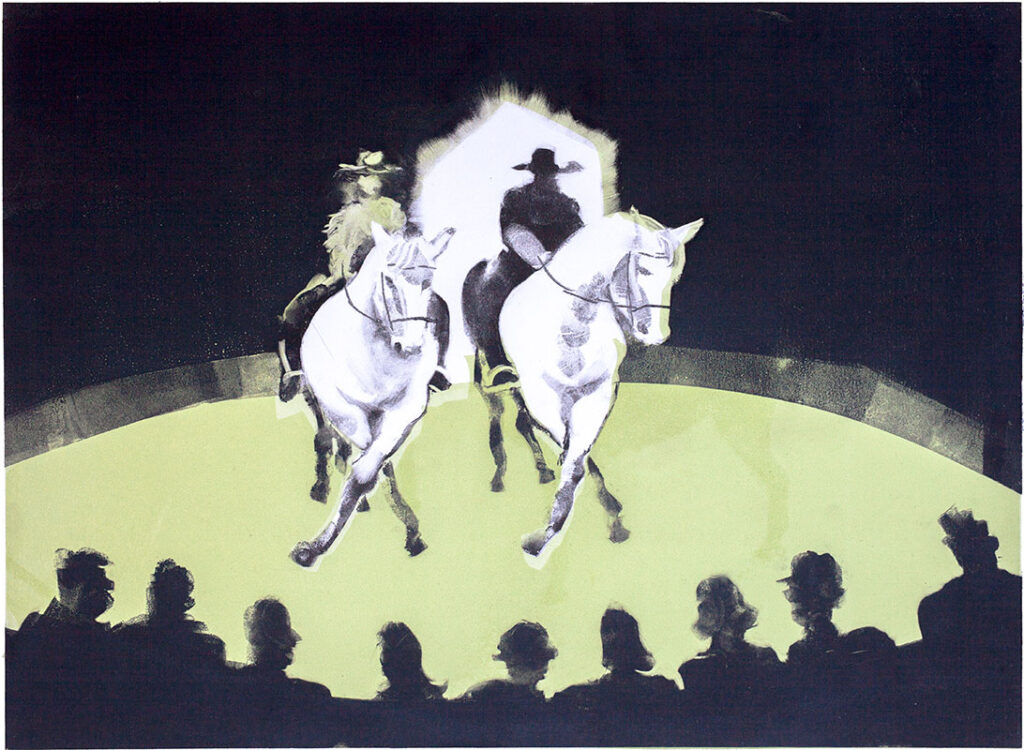 Two bendy Americans
Andy tells me he had a lot of fun spending four days watching rehearsals before the Gifford's Season this Summer. He recalls an interesting meeting with the acrobats, before sketching 'The Aerialists'. Two bendy Americans chat and limber up simultaneously, one bringing her leg right up to her ear! Wondering at their death defying feats and inspired by the originality and skill of the rest of the troupe has resulted in four stunning works, full of movement and energy. Many of these prints have sold already – grab yours while you still can.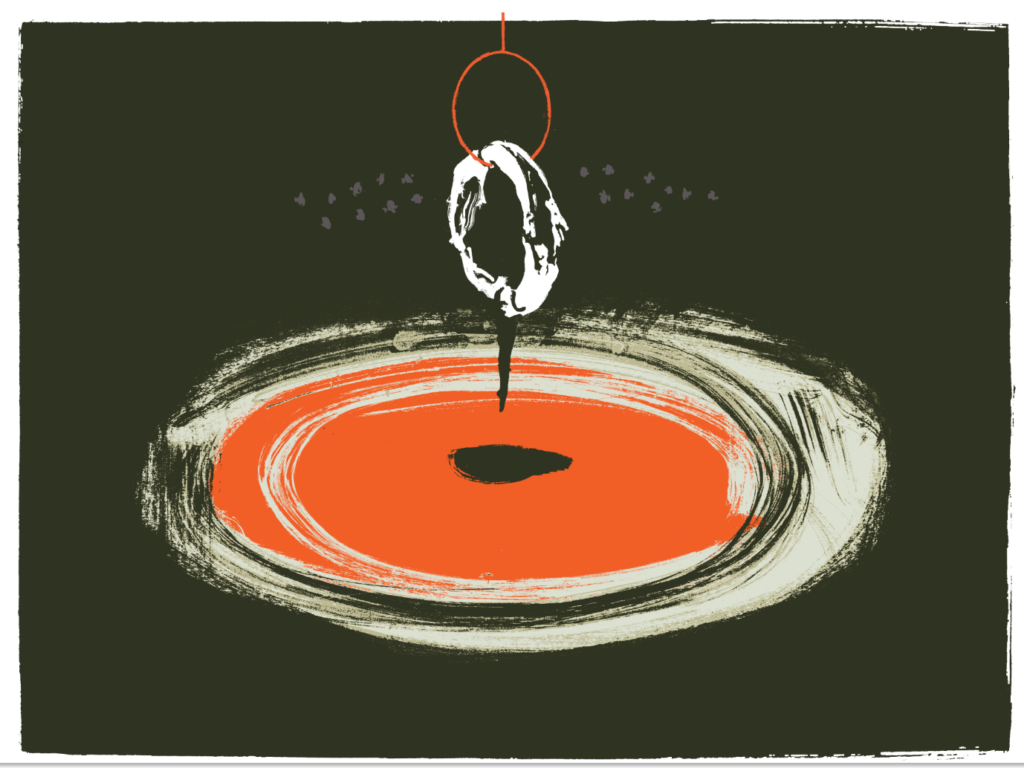 (£240 unframed for 'Yee ha' and 'The Aerialists' and £750 for 'Jack and Cartuchio. 'Line dance' and 'Jack and Cartuchio, Dosey Doe') 20% of the sale proceeds go to the Gifford's Circus Arts Foundation.
Fingers, toothbrushes, castors and corkscrew
One of the young students approaches Andy cautiously, "Please may I have your autograph?" Andy is charming and courteous, asks for his name and duly signs his name on a postcard. "I love how you've used your finger prints in this painting," he continues, pointing at 'Mansions of Summer Shade'.
What a treat for these students to meet the artist himself, who can explain first-hand how he created each artwork. Andy describes the process of painting straight onto a plate, using castors from an old chair to create the vertical uprights of the tree trunks. He used his finger prints providing the abstracted leaves and texture. The acid yellow colour is Chartreuse Yellow.
Indeed in 'Jack and Cartuchio, Dosey Doe' Andy used his fist and wrists to move the paint around. In two display cases, you can see the artist's tools – useful for those, like me, who are curious about the processes involved. Other artist tools include; Intaglio etching ink, castors, turpentine, toothbrushes, palette knives, make up remover pads, lip salve, wire wool, acrylics, finest acrylic ink, lots of paint brushes, sketchbooks….and a corkscrew! (thrown in for good measure.)
Gloucestershire Printmaking Co-operative
Andy's practice combines working from his studio at home and the well equipped print studios at Gloucestershire Printmaking Co-operative, at Griffin Mill Trading Estate. "It's a rare and wonderful thing to have the use of traditional printing presses with facilities for lithography, screen printing, letterpress, etching and so on.
"There's a physicality to printing, I'm an impatient artist – I want to get things down quickly. When you peel the ghost print off the plate, it's incredibly exciting."
Art supplies from Pegasus Art
And if he needs extra supplies and art materials, he just has to run upstairs to Pegasus Art. "Their joie de vivre is infectious. All I can hear from downstairs is laughter. Many of the staff are artists so they know their stuff," he concludes.
For more information about Andy's amazing work visit:
In the past year he has been working with whiskey brand Balvenie to produce new packaging for them and you'll agree it's stunning. Prints for sale on his website here.