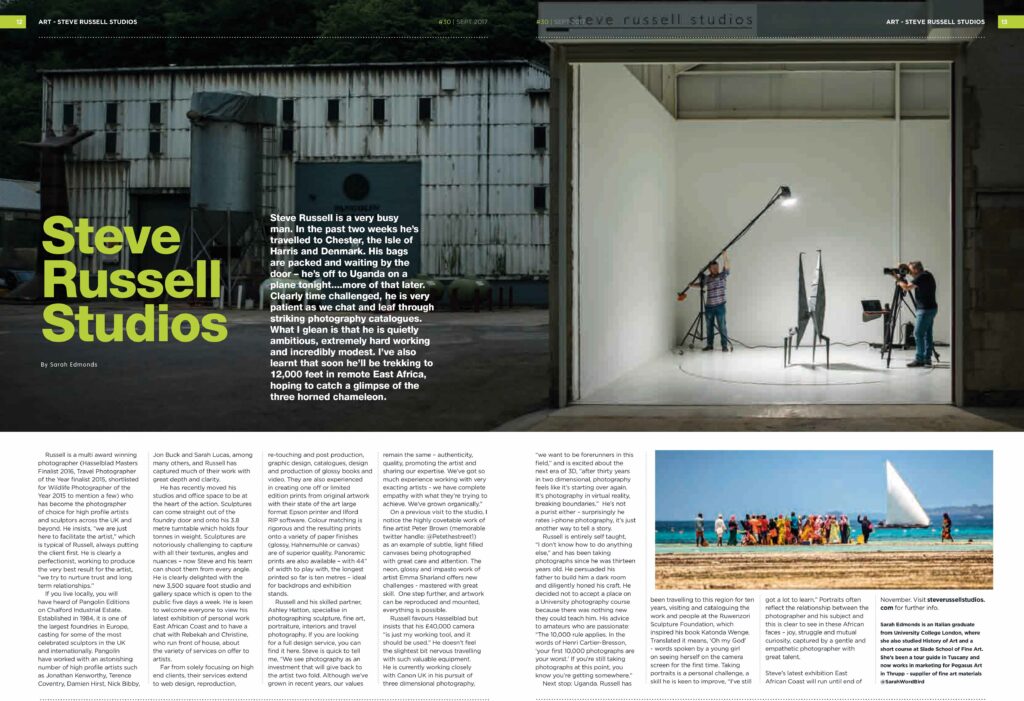 Steve Russell is a very busy man. In the past two weeks he's travelled to Chester, the Isle of Harris and Denmark. His bags are packed and waiting by the door – he's off to Uganda on a plane tonight….more of that later. Clearly time challenged, he is very patient as we chat and leaf through striking photography catalogues. What I glean is that he is quietly ambitious, extremely hard working and incredibly modest. I've also learnt that soon he'll be trekking to 12,000 feet in remote East Africa, hoping to catch a glimpse of the three horned chameleon.
Russell is a multi award winning photographer (Hasselblad Masters Finalist 2016, Travel Photographer of the Year finalist 2015, shortlisted for Wildlife Photographer of the Year 2015 to mention a few) who has become the photographer of choice for high profile artists and sculptors across the UK and beyond. He insists, "we are just here to facilitate the artist," which is typical of Russell, always putting the client first. He is clearly a perfectionist, working to produce the very best result for the artist, "we try to nurture trust and long term relationships."
Photographer for Pangolin Editions
If you live locally, you will have heard of Pangolin Editions on Chalford Industrial Estate. Established in 1984, it is one of the largest foundries in Europe, casting for some of the most celebrated sculptors in the UK and internationally. Pangolin have worked with an astonishing number of high profile artists such as Jonathan Kenworthy, Terence Coventry, Damien Hirst, Nick Bibby, Jon Buck and Sarah Lucas, among many others, and Russell has captured much of their work with great depth and clarity.
He has recently moved his studios and office space to be at the heart of the action. Sculptures can come straight out of the foundry door and onto his 3.8 metre turntable which holds four tonnes in weight. Sculptures are notoriously challenging to capture with all their textures, angles and nuances – now Steve and his team can shoot them from every angle. He is clearly delighted with the new 3,500 square foot studio and gallery space which is open to the public five days a week. He is keen to welcome everyone to view his latest exhibition of personal work East African Coast and to have a chat with Rebekah and Christine, who run front of house, about the variety of services on offer to artists.
Photographic services
Far from solely focusing on high end clients, their services extend to web design, reproduction, re-touching and post production, graphic design, catalogues, design and production of glossy books and video. They are also experienced in creating one off or limited edition prints from original artwork with their state of the art large format Epson printer and Ilford RIP software. Colour matching is rigorous and the resulting prints onto a variety of paper finishes (glossy, Hahnemuhle or canvas) are of superior quality. Panoramic prints are also available – with 44" of width to play with, the longest printed so far is ten metres – ideal for backdrops and exhibition stands.
Russell and his skilled protégée, Ashley Hatton, specialise in photographing sculpture, fine art, portraiture, interiors and travel photography. If you are looking for a full design service, you can find it here. Steve is quick to tell me, "We see photography as an investment that will give back to the artist two fold. Although we've grown in recent years, our values remain the same – authenticity, quality, promoting the artist and sharing our expertise. We've got so much experience working with very exacting artists – we have complete empathy with what they're trying to achieve. We've grown organically."
On a previous visit to the studio, I notice the highly covetable work of fine artist Peter Brown (memorable twitter handle: @Petethestreet1) as an example of subtle, light filled canvases being photographed with great care and attention. The neon, glossy and impasto work of artist Emma Sharland offers new challenges – mastered with great skill. One step further, and artwork can be reproduced and mounted, everything is possible.
Tools of the trade
Russell favours Hasselblad but insists that his £40,000 camera "is just my working tool, and it should be used." He doesn't feel the slightest bit nervous travelling with such valuable equipment. He is currently working closely with Canon UK in his pursuit of three dimensional photography, "we want to be forerunners in this field," and is excited about the next era of 3D, "after thirty years in two dimensional, photography feels like it's starting over again. It's photography in virtual reality, breaking boundaries." He's not a purist either – surprisingly he rates i-phone photography, it's just another way to tell a story.
"Your first 10,000 photographs are your worst"
Russell is entirely self taught, "I don't know how to do anything else," and has been taking photographs since he was thirteen years old. He persuaded his father to build him a dark room and diligently honed his craft. He decided not to accept a place on a University photography course because there was nothing new they could teach him. His advice to amateurs who are passionate: "The 10,000 rule applies. In the words of Henri Cartier-Bresson, 'your first 10,000 photographs are your worst.' If you're still taking photographs at this point, you know you're getting somewhere."
Travels in Africa
Next stop: Uganda. Russell has been travelling to this region for ten years, visiting and cataloguing the work and people at the Ruwenzori Sculpture Foundation, which inspired his book Katonda Wenge. Translated it means, 'Oh my God' – words spoken by a young girl on seeing herself on the camera screen for the first time. Taking portraits is a personal challenge, a skill he is keen to improve, "I've still got a lot to learn." Portraits often reflect the relationship between the photographer and his subject and this is clear to see in these African faces – joy, struggle and mutual curiosity, captured by a gentle and empathetic photographer with great talent.
His latest exhibition East African Coast will run until the end of November.
Steve Russell Studios, Unit 8a, Chalford Industrial Estate, Glos GL6 8NT
t. 01453 885884 rebekah@steverussellstudios.com
To buy his work and that of other artists visit: www.steverussellgallery.com
Please ring and make an appointment if you would like to meet Steve Russell in person.