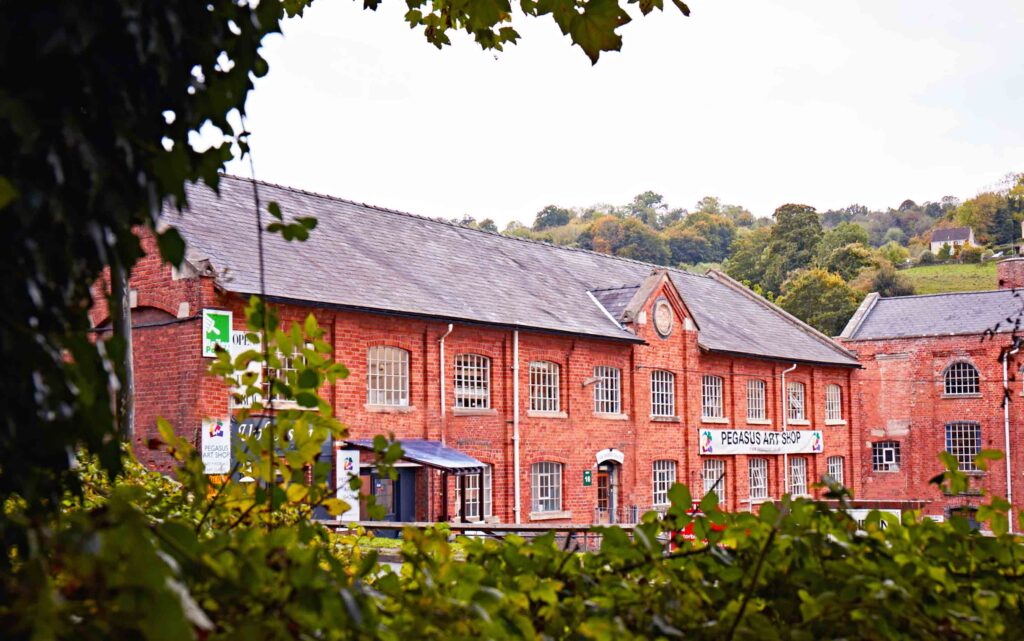 Written for Good on Paper magazine
Pegasus Art steeped in history
If I had a pound for every time one of our customers said, "Pegasus Art has a lovely atmosphere," I'd be rich! It really does have a warm and welcoming character, thanks to the artist staff who love working here and Jane Fisher, our Director and art materials expert extraordinaire.
We wholeheartedly appreciate working in this handsome, three story 17th century red brick mill building on the outskirts of Stroud – our staff walk to work along the canal in all weathers (yes, even snow) following in the footsteps of the mill workers who criss-crossed up and down the Stroud valleys in the mid 18th century.
Giants of mill buildings
These giants of mill buildings, crouching on the valley floor, have housed craftsmen of one kind or another for the past hundred years – we are just the latest custodians!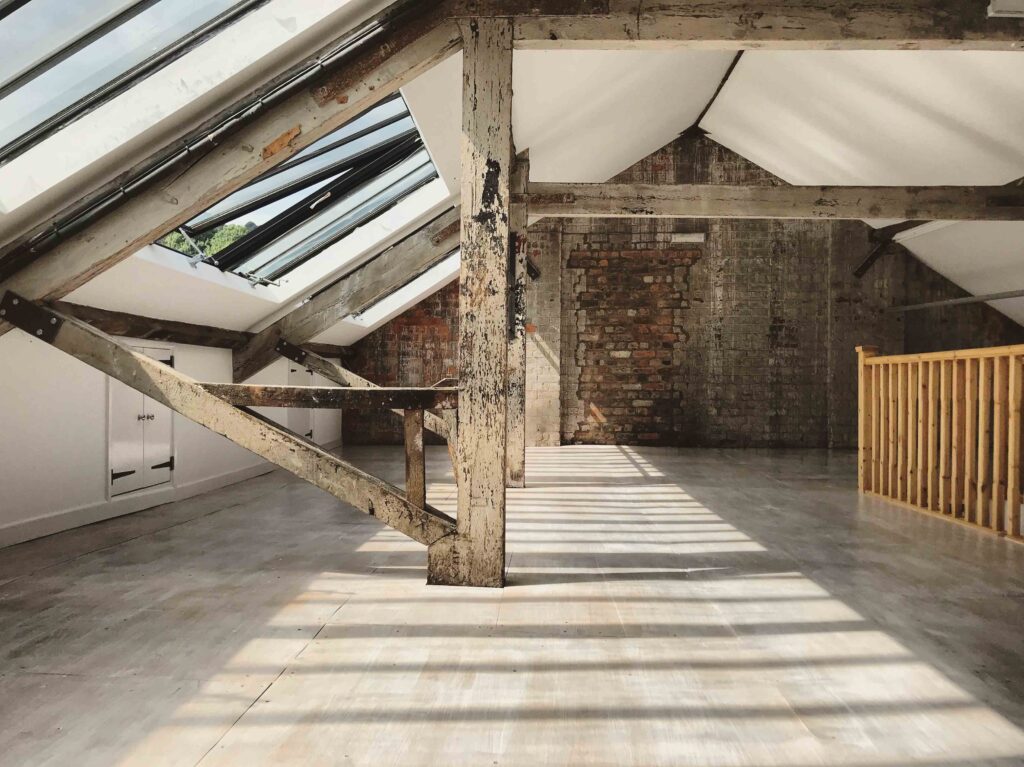 Pegasus Art as an 'artist hub' is central to our culture -it was integral to Jane's vision when she bought the business in 2005. It's important that we support our burgeoning artist community in whatever endeavours or challenges they face, aiding their toils and congratulating their successes.We are here for advice and technical support -if we don't stock what you want, we will try and find it!
Workshops and art classes
To that end, as well as regular art classes and a growing programme of day workshops, we currently have eight studios occupied by a variety of practising artists. Their presence adds a working energy to the walls of the building – things are being created, projects are devised, then completed.
The artists themselves feel part of a mutual endeavour sharing ideas and challenges, exploring new materials, enjoying simple conversation and a sense of community. A highlight of the year is coming together as a collective for Open Studios, it's a focus to create and present work to the wider world, distill themes and ideas and talk directly to art lovers and collectors.
Attic Studio renovation
Last Summer was spent stripping back, plastering and painting the space under the eaves that had been unloved and unappreciated for many years. Jane had always seen it's potential and after a few months of careful renovation, it began to reveal itself. In October last year, we hosted our first event with paint and ink manufacturer Cranfield Colours ~ the attic came alive with the burble of convivial artists, discussion and debate.It prompted a renewed interest in its former use and we discovered some intriguing facts, with the help of Stroud Historical Society.
From 1599 onwards….
As with so many commercial buildings, Griffin Mill has housed a variety of businesses in the last century, but we have been able to establish that its founders were the Griffin family who built the mill in 1599 for cloth manufacture. It is well documented that this cloth would have been taken by horse and cart to Brimscombe Port, down the Stroudwater Canal to Thames barges who carried the goods eastward to London.
It remained a textile mill until 1856 until it was converted into a saw mill, with part of the building producing umbrella sticks by the Hooper family until 1901. Henry Hooper emigrated to Canada with his wife Florence and Griffin Mill changed hands again.The particulars listed the industrial assets: "Griffin Mill – comprising of three large mills, workshops and sheds equipped with powerful steam engines, boilers, water wheels and a costly modern machinery and plant."
A strong and handsome man
In human form, Griffin Mill would be a strong and handsome man, shouldering the weight of industry! Next came Tyler's of Thrupp, renowned cabinet makers, who remained on this site until 1956.
Glider wings
During the Second World War, the mill turned its attention to war work and women were directed to build, astonishingly, enormous Horsa glider wings in the large space under the eaves. These gliders had a wing span of up to twenty seven metres. Without engines they were instrumental in dropping soldiers over enemy lines undetected. There is an undeniable symbiosis between the large stretched canvases that we currently build for artists, and the wooden framed canvas wings of these gliders.
It's a fact that is not lost on our in-house canvas makers whose largest canvas to date was 2m x 2m. It was carefully carried out of the fire escape, boxed up in the hallway and shipped to Holland!  It is purported that there were huge double doors at the far end of the building where the completed wings were floated out.
Old posters
When the attic was initially cleared out, nails and screws were found floating in enormous blocks of resin that had dripped off the end of the glue-ing base. Each bay was once a work station, with beams and joists decorated with posters of the time. We have uncovered a train excursion poster, a flyer for 'Aldridges' and their Christmas stock of dolls for 2 ½ d and a book signing for 'From the Coal Pit to the Platform'!
Enjoy Art Talks and workshops in the new studio
We continue to craft and create in this wonderful building and welcome all artists and art lovers to join our community. We have a handful of interesting artist and supplier talks scheduled throughout the year.
'Travels with my Paintbrush' with Sarah Wimperis. 'Becoming Vincent' ~ an illustrated talk with artist Sarah Wimperis who painted for the Oscar nominated animated film 'Loving Vincent'. 'Extreme en Plein Air' with David DJ Johnson who paints on mountain sides and more. Head to our website for more information and to book.
Studio Artists
Teresa Poole – mixed media and decorative artists pecialising in traditional oriental art and contemporary mixed media on canvas and interiors. From murals and paint finishes to furniture and mirrors.
Paul Fowler – fine artist, large oils many with a focus on history, human form and textile.
"The lay figures I work from have been engaged in other artists studios for the past two hundred years. Their history, their place and the space they occupy in our time offers a unique structure for my own work."
Paul also tutors regular Life Drawing and Drawing classes at Pegasus Art.
Jane Fisher – fine artist, large landscapes, figurative artist, underwater swimmers.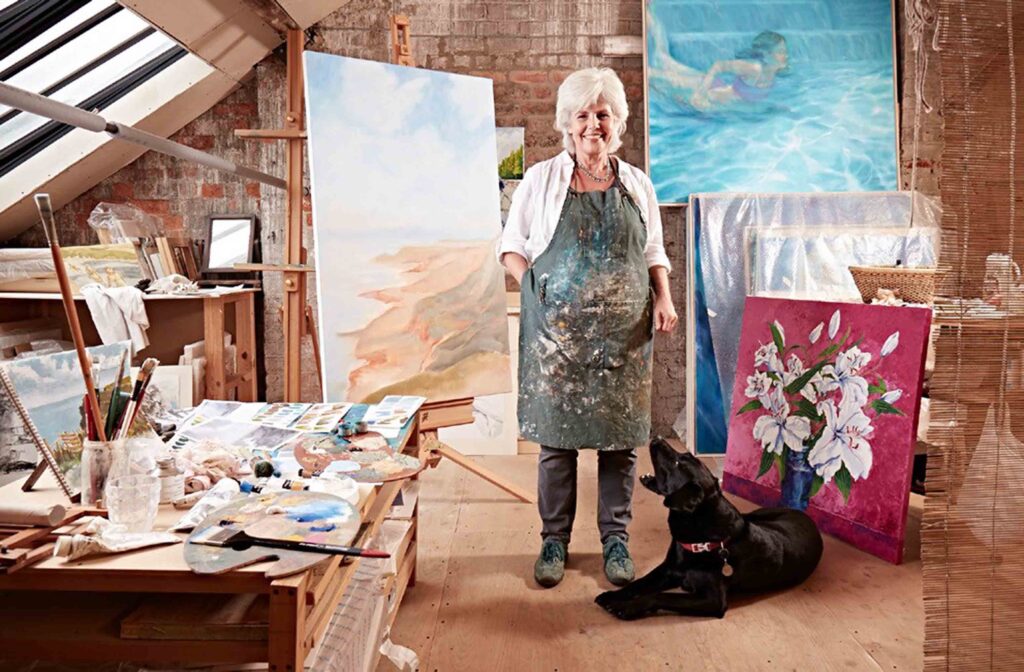 Stu McLellan – illustrator, painter, project leader.
Instagram @stusshed
Sarah Howard – oil painter.
Carol Honess – printmaker, ceramicist.
@fern_cottage_studio
Max Hale – fine artist, oils, acrylics, watercolours, drawing.
Max Hale also teaches regular morning and afternoon classes at Pegasus Art.
Julia Adams – fine artist, printmaker.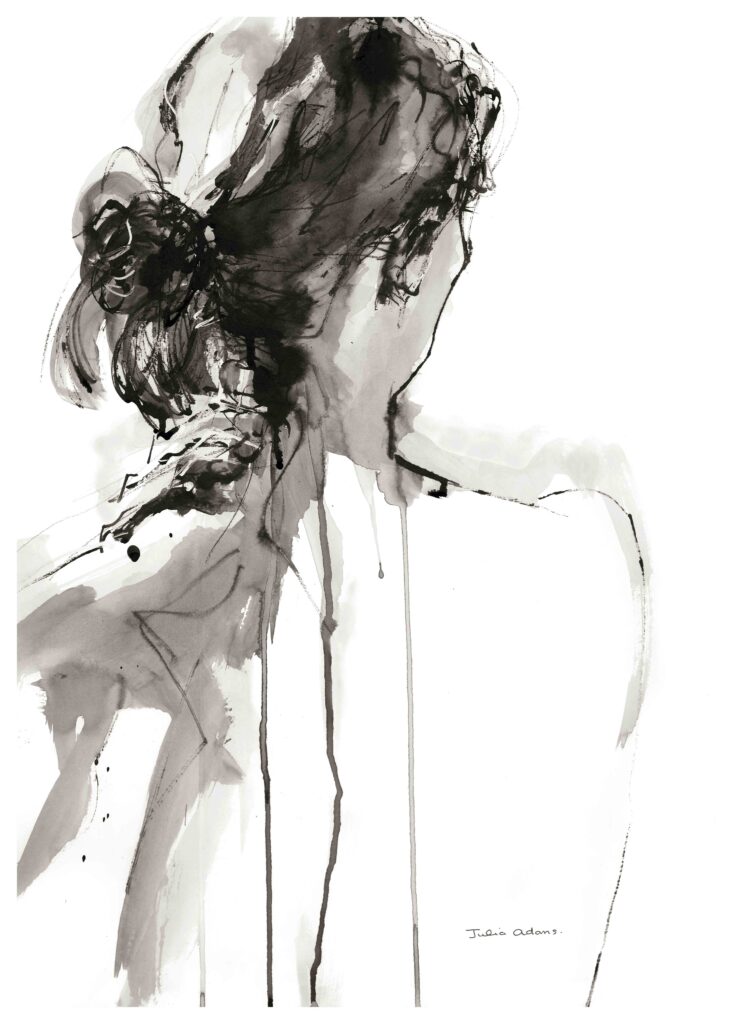 Julie Fowler – ceramic artist clayworks@btinternet.com
Studios are open by appointment – please contact the artist directly.
Pegasus Art, Griffin Mill, Stroud GL5 2AZ info@pegasusart.co.uk 01453 886560
To commission copywriting, features or artist interviews, please get in touch with me here.