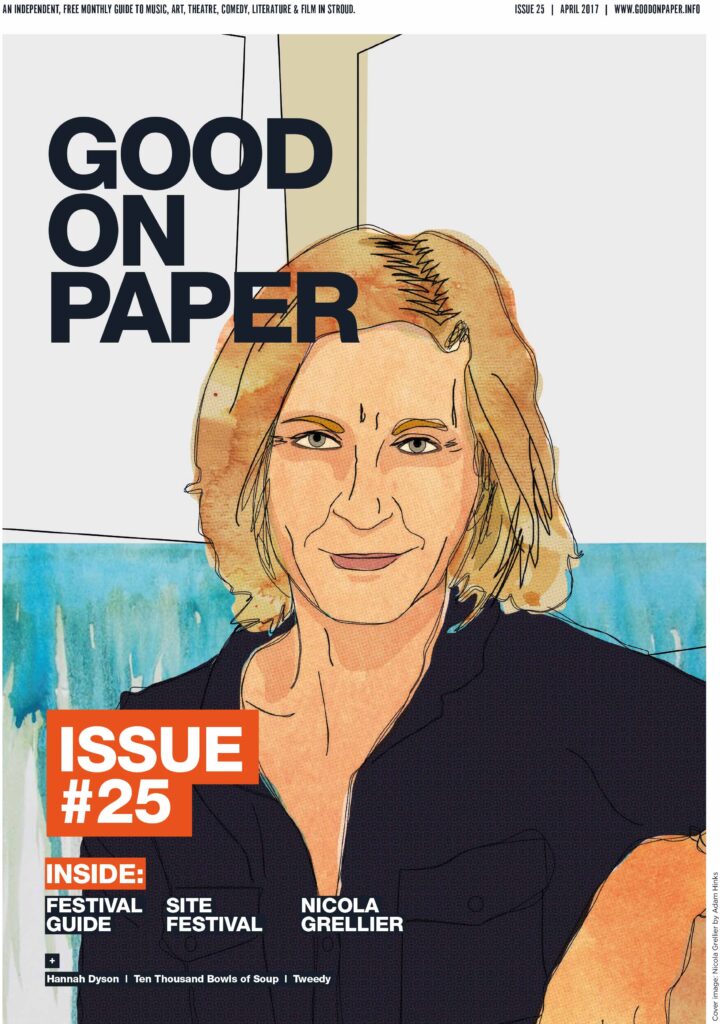 Written for Good on Paper magazine 2017
An exhibition of charcoal drawings
Later this month Select Festival (the annual celebration of visual arts across our glorious five valleys) will present Future Giants; a brand new exhibition at the Malthouse Bar and Kitchen in Salmon Springs.
What makes this exhibition of large charcoal drawings by artist Nicola Grellier so exciting is the scale of them. There are nine pieces, most around two metres tall, adorning the walls of the industrial Malthouse Bar & Kitchen on the outskirts of Stroud. Where beer bottles once clinked along a production line, now bourgeois diners can admire dramatic artwork – and admire them they will!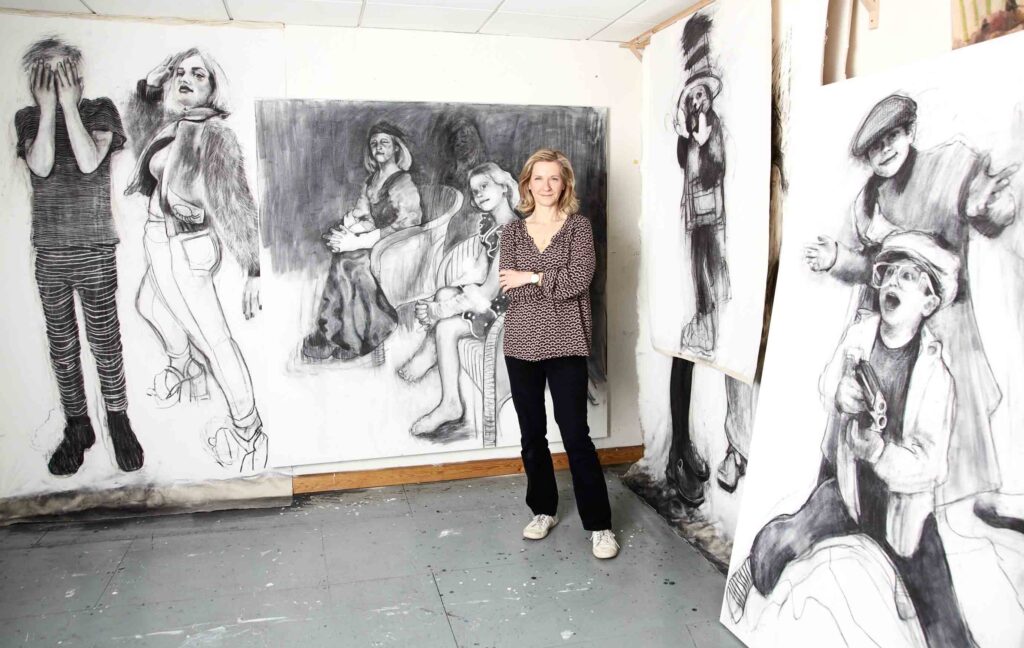 "I just dive in…."
Drawing on this scale is supremely masterful and not for the faint hearted, "I just dive in and start to push the charcoal around, drawing and smudginguntil it starts to emerge and build." I admire the simplicity and daring of the medium – there is nowhere to hide – with exposed and confident lines "downward strokes come naturally", coupled with delicate blending and accents that have been rubbed away, "rubber creates valid marks, as important as the charcoal. Moving the willow charcoal around the surface of the paper until it happens. It's like magic." It certainly is.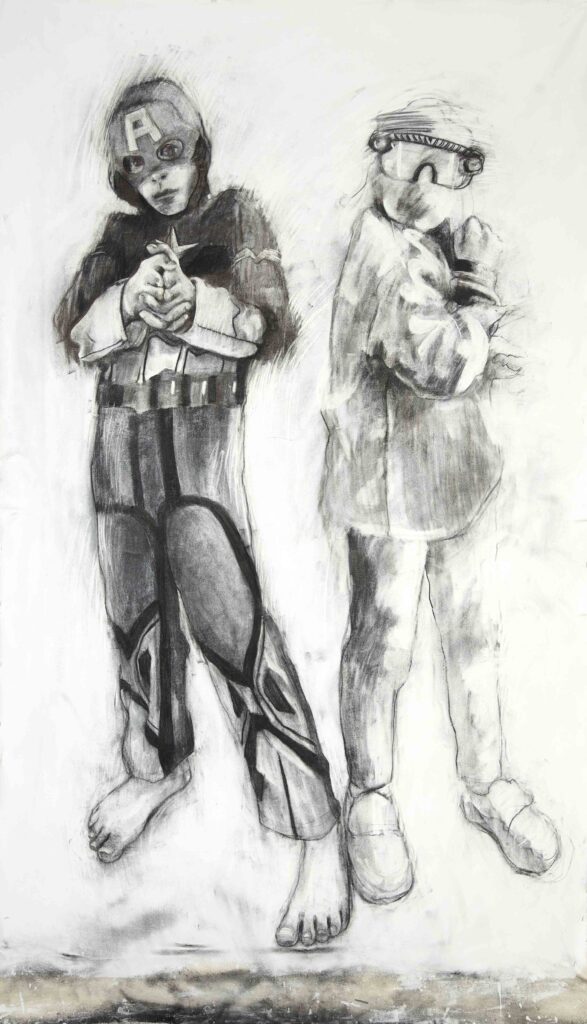 'Unreconstructed' personalities
The artwork does speak for itself here, but the subject matter is so unusual, it somehow deserves further explanation. The drawings provoke a subtle humour and a curiosity – who are they? Who do they represent? My initial thoughts prompted costume sketches for theatre productions – Harlequin and Pantalone perhaps? But these misfits are 'unreconstructed' (Grellier's phrase) and in unusual pairings. The titles are often tongue in cheek, with a smattering of eccentricity, 'Long John & Dolcepompom' and 'The Hat Cat'….the Cat in the Hat turned on his head. The duos are quirky, 'Minnie (the mouse) & Ariel', 'Spy5' and 'Captain America &The Alien from Out of Space'. These are Rebels and Superheroes in disguise.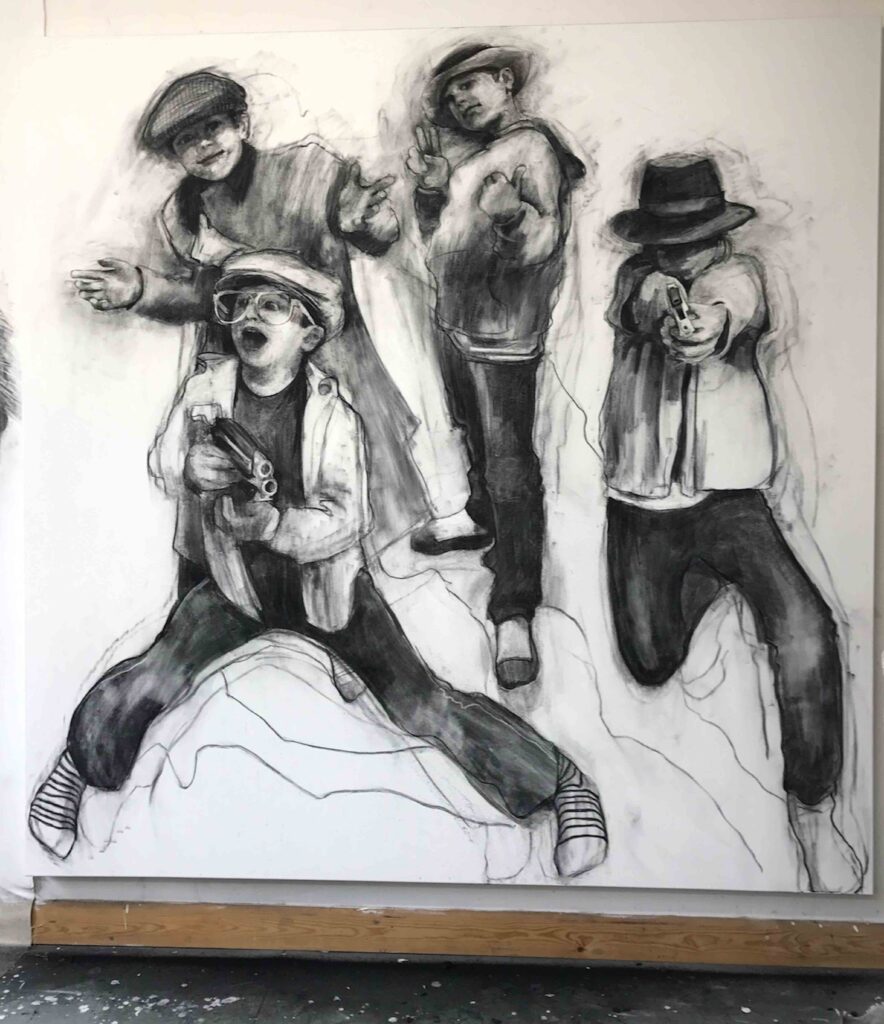 Heads of States
Grellier explains that they are part of her subconscious 'family' – a group of personalities called the Heads of States, but this time in giant form. Her fascination with childhood dressing up, metaphorical and physical masks, cloaks, protection, our projected personas – is what led her to start experimenting with the Future Giants – they strike a pose and take on an heroic strength. Superhumans in domestic settings, it's a clever and witty juxtaposition.
Future leaders, future thinkers, future creators
Inspiration also came from a box of old photographs depicting children in mismatching costumes and wigs, cobbled together from the dressing up box, in a bizarre and homespun theatrical production! Her four children frequently present ideas, "I watch my youngest daughter drawing and drawing…" and you might find Rose hiding behind a Captain America mask if you look closely. It's often young people that inspire Grellier – the future leaders, future thinkers, future creators…..Future Giants.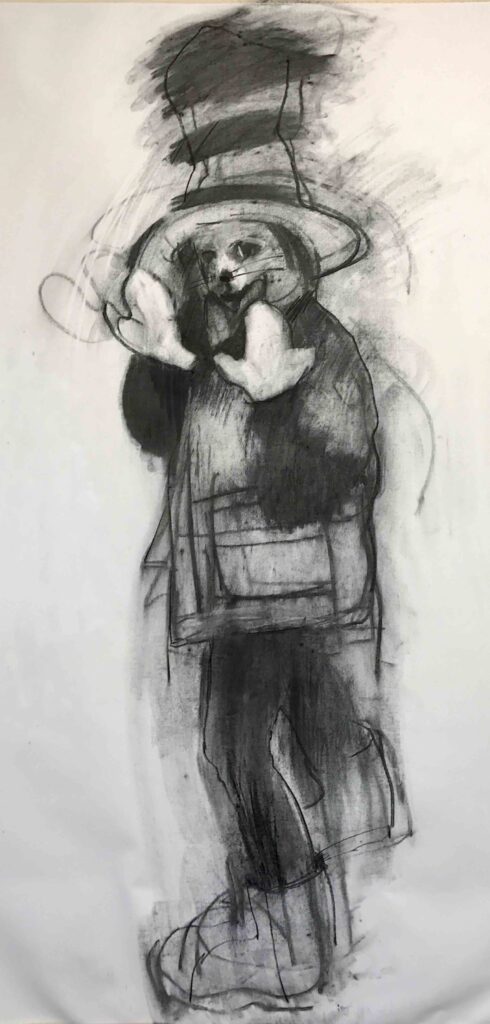 Back in the studio
Bringing an exhibition to the public often comes about through chance or opportunity. Lizzi Walton, Founder and Director of SIT Select, was so impressed with Grelliers recent success at the Jerwood Drawing Prize (she was shortlisted from over three thousand entries), that she suggested this unusual venue, "once I saw the beautiful brick walls I was sunk!"  In fact, although Nicola is a dedicated painter, she is currently committed to a new phase of drawing – a fundamental element of any artist's career.
It is a particularly motivated period for Grellier, having returned to painting after a two year break and taking a studio at Pegasus Art, "Being back in the studio after time away has given me huge energy and commitment. I'm not allowing anything to distract me these days and having a studio away from home is a revelation."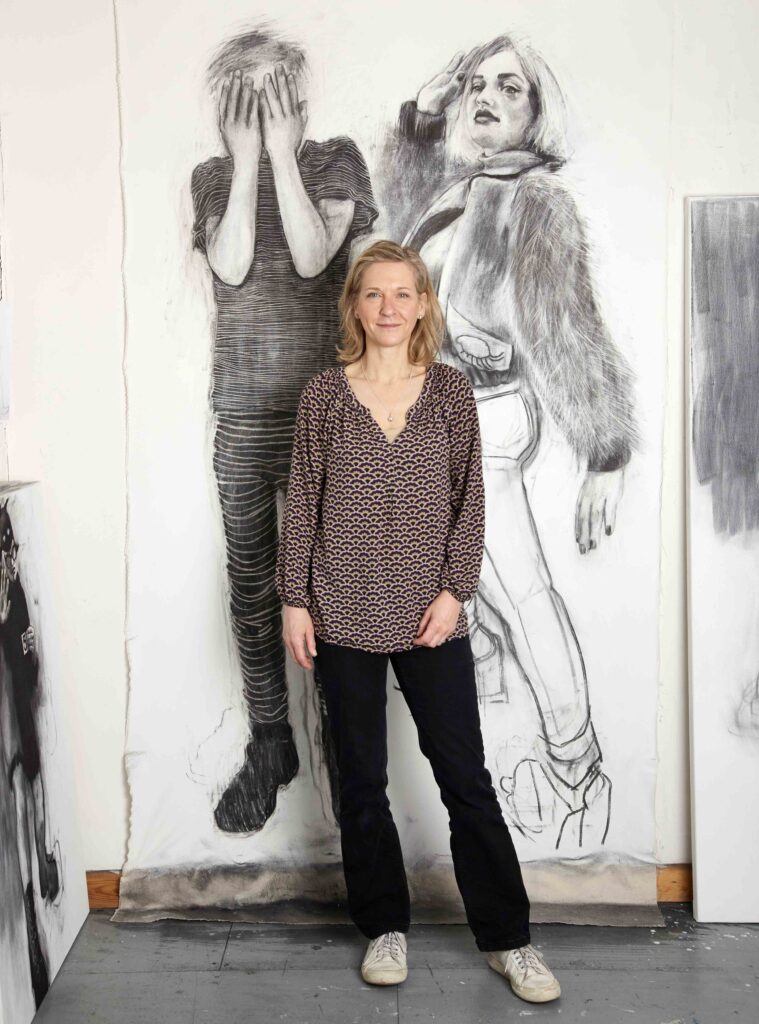 Accidental art
Grellier talks a lot about accidental art. The process of allowing mistakes to happen, trying not to think too much and a very real sense of an unconscious, otherworldly state whilst working – making marks without thought. She uses terms like pentimento (Italian meaning is repentance) which traditional artists used to describe evidence of past workings beneath the finished piece.
It's a concept that strikes a chord for this artist, who proudly presents her marks and mistakes, unfinished and in her words 'ugly' pieces of work. All the marks are relevant, even if they are rubbed away or only partially visible. There is also a strong sense of how a silhouette can define character and provoke a sort of universal recognition.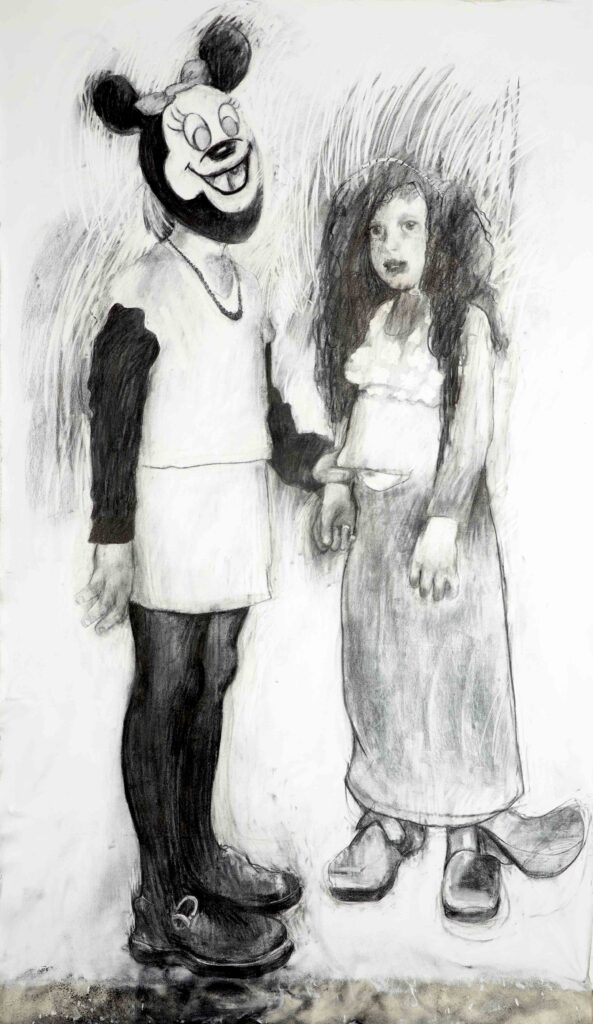 The joyous physicality of drawing
As well as the emotional journey of producing a body of work, the practical elements of drawing at this scale took on a new meaning. "It's such a different thing making drawings at this scale. I'm using the full height of the walls in my studio and had to clear it out and move everything around. I use a step ladder to reach the top, but the hardest part is the bottom of the drawings – the feet! It all has to work together, and I had to take into account that people will view the paintings from below."
The pure and joyous physicality of drawing, clearly delights Grellier, "It's wonderfully releasing to draw large with just charcoal in a very physical way." It's interesting that she works simultaneously on many pieces at the same time. Other processes include collage as a more freeing (and sometimes amusing) outlet, use of bold colour in her oil painting, words and puns. She listens to the radio whilst working and often draws on humour and wordplay.
Theatrical monochrome
Artwork should make you feel something….and this exhibition is upbeat, theatrical and exciting. It shows a growing confidence, not only in scale, but in technique and use of monochrome. In her own words, "I feel renewed and liberated by working on this scale. The apparent difficulties have turned out to be the most precious elements for me as an artist."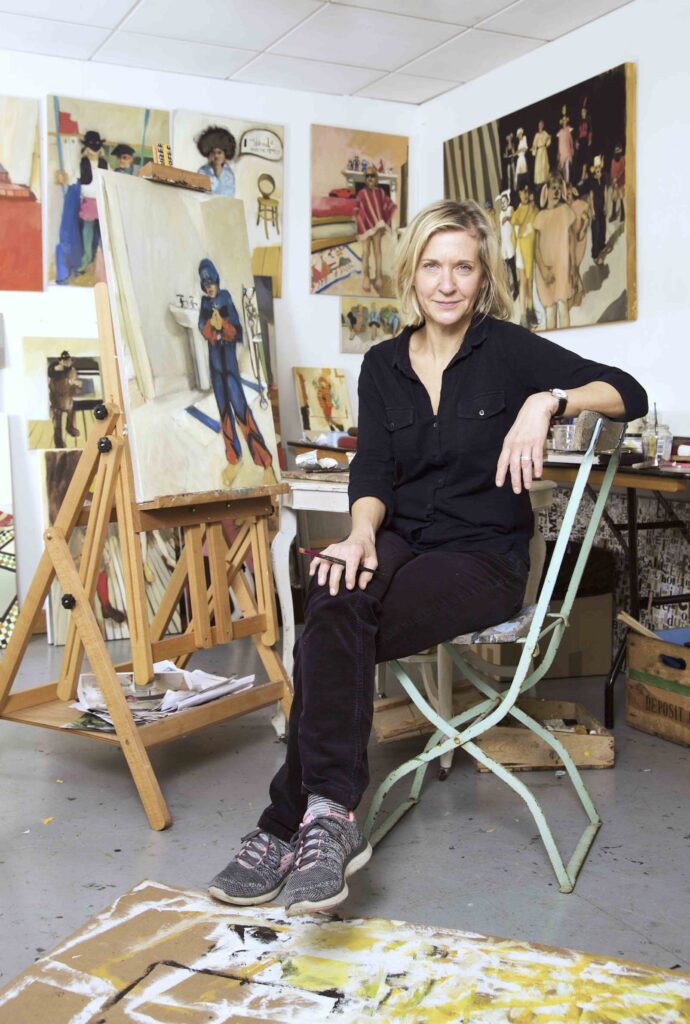 Alongside these epic works, there will be a few smaller pieces for sale, pencil sketches and perhaps prints. Nick is learning Stone Lithography at the Gloucestershire Printing Co-operative, so we may see some early works!
About Grellier
Grellier studied at Wimbledon and Chelsea Schools of Art (84 – 88) but since 1990 has mainly lived in the Stroud Valleys. The industrial architecture and landscapes have provided an enduring source of inspiration, alongside the artistic community of Stroud as a whole.This exhibition brings together what SIT Select does best – the very highest quality of artist, beautiful surroundings and a decent coffee to boot.
The Future Giants exhibition runs at the Malthouse Bar and Kitchen from Weds 19th April until Tues 20th June 2017. Visit nicolagrellier.co.uk for further examples of Nicola's work. This year's Select Festival takes place from Sat 29th April until Sun 28th May. Visit sitselect.org and pick up next month's issue for further info…
Sarah Edmonds is an Italian graduate from University College London, where she also studied History of Art and a short course at Slade School of Fine Art. She's been a tour guide in Tuscany and now works in marketing for Pegasus Art in Thrupp – supplier of Fine Art materials. My twitter handle is @SarahWordBird
If you would like to commission an Artists Statement, feature piece or a copywriting project get in touch with me here.