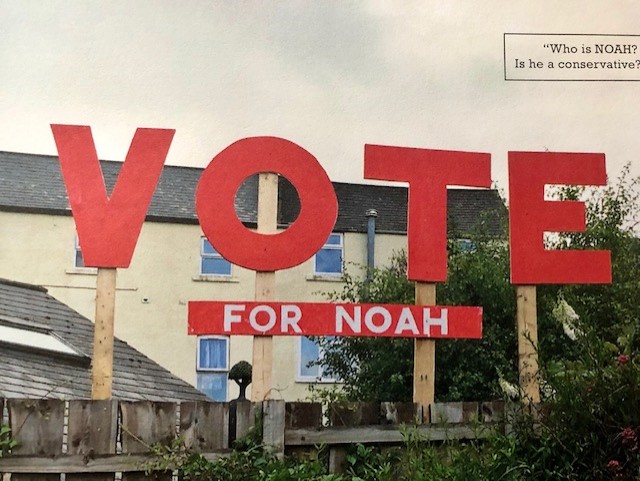 A feature written for Good on Paper magazine, November 2019
It all started with the word 'VOTE'.
Who is Andrew Wood and what is 'The Word'?
For a lover of words and language, I jumped at the chance to meet artist Andrew Wood and his studio assistant Guy de Lotz. Together the pair have hit upon something really rather sensational – an ever changing, word art installation in the centre of Stroud. On a grey day, I am greeted with HENDRIX, number forty three in the series, 26" giant black lettering with a neon surround seemingly floating above an unassuming fence. Andrew insists, "there is no limit to the scope of this project, it is not site specific. The words mean different things to different people."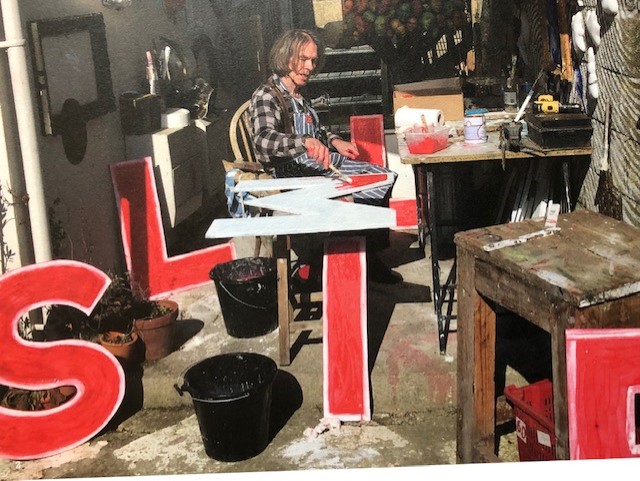 But what do they mean?
"They mean what you want them to mean. They're a reflection of your own life, your own self. They are totally random."
If you have no idea what I'm talking about, wander into the centre of Stroud and along the London Road. High up on a fence post you can't miss the word of the week….or month. It might make you laugh, gawp, snigger or….. think. "Make of it what you will." All the words are the same height, made of 15" plywood, cut and painted by hand.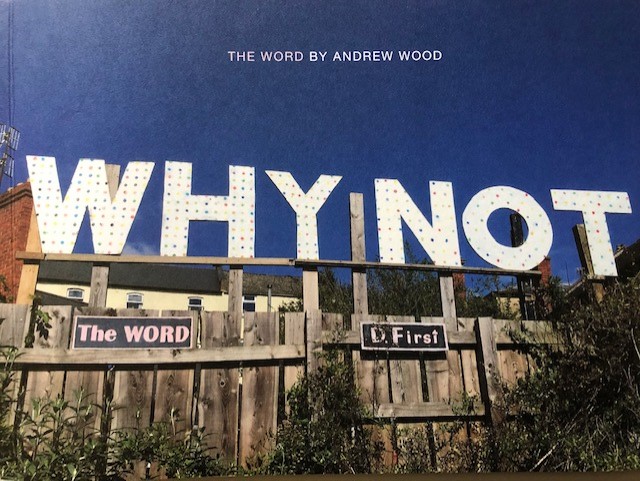 Andrew Wood is a well known and respected artist in our town. He welcomes me with a warm smile, and despite slowing down due to Parkinson's disease, he extends generous hospitality with plenty of humour. His Stroud studio is airy, bright and colourful – a gallery, workshop and home – plenty to distract me from the job in hand. I am here to talk about his new book, 'The Word' a glossy catalogue of all the word installations and a brief explanation about its conception. As a limited edition print run of five hundred, it's advisable to snap up a copy or two, available from Stroud Bookshop at a mere £10.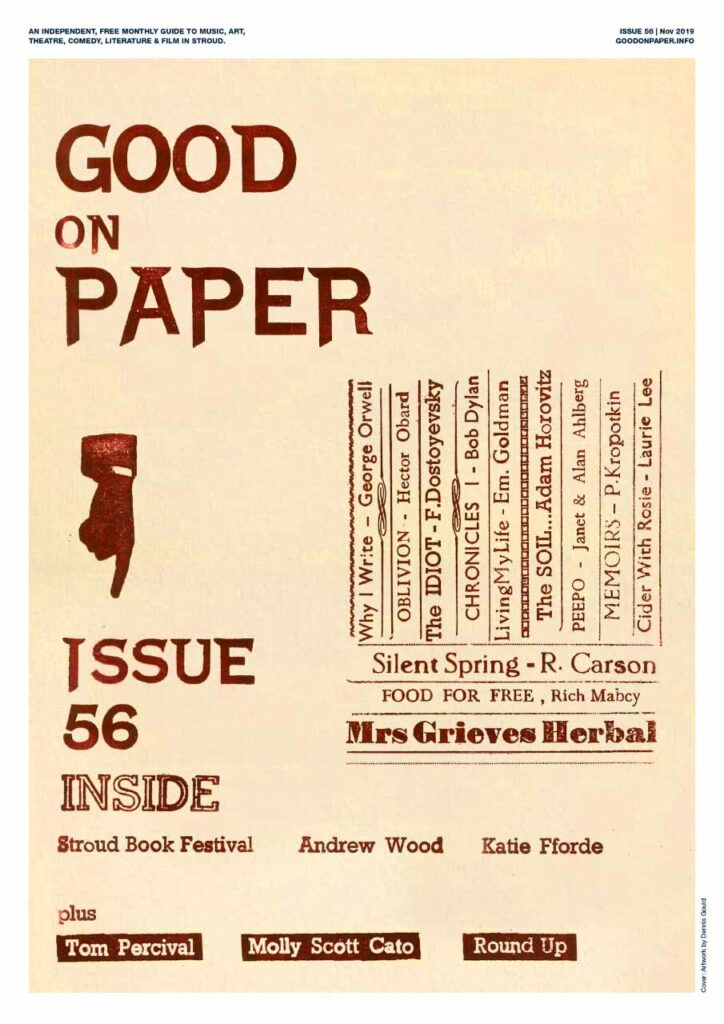 I hesitate to make predictions, but wager it could be a collector's item. It would make an amazing coffee table book and talking point (who IS Alan?) not least with a bonkers foreword from Keith Allen and a poem by Elvis McGonagall which cleverly weaves together all forty three words. McGonagall himself, stand-up poet and comedian, is no stranger to word play – his stage name references the notoriously bad poet William McGonagall and Elvis, "the wrongest name I could think of to go with McGonagall."
No master plan
With no hint of pretention, I'm delighted to hear that this project started life with no master plan….it just happened. Although the seed of the idea was inspired by the 2017 General Election, Wood doesn't take it too seriously, as the introduction suggests, "I am not a political animal, apart from a month in Los Angeles in 1990 organising banner painting workshops protesting Bush Senior's invasion of Iraq." Inspired by Keith Allen's robust political graffiti scrawled across the hoardings of The Marshall Rooms, Wood decided to encourage his community to get involved, hence the first word; VOTE. "It's surprising how many people living in the UK don't vote…it was time to take action."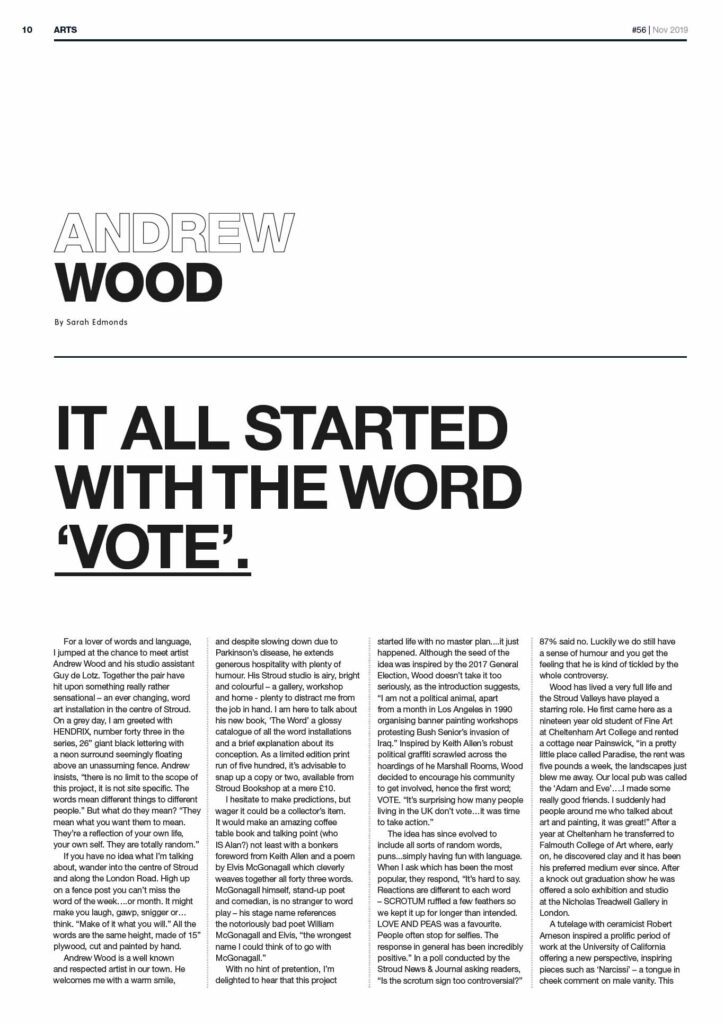 Scrotum
The idea has since evolved to include all sorts of random words, puns…simply having fun with language. When I ask which has been the most popular, they respond, "It's hard to say. Reactions are different to each word – SCROTUM ruffled a few feathers so we kept it up for longer than intended. Love and Peas was a favourite. People often stop for selfies. The response in general has been incredibly positive." In a poll conducted by the Stroud News & Journal asking readers, "Is the scrotum sign too controversial?" 87% said no. Luckily we do still have a sense of humour and you get the feeling that he is kind of tickled by the whole controversy.
"I lived in a pretty little place called Paradise."
Wood has lived a very full life and the Stroud Valleys have played a starring role. He first came here as a nineteen year old student of Fine Art at Cheltenham Art College and rented a cottage near Painswick, "in a pretty little place called Paradise, the rent was five pounds a week, the landscapes just blew me away. Our local pub was called the 'Adam and Eve'….I made some really good friends. I suddenly had people around me who talked about art and painting, it was great!" After a year at Cheltenham he transferred to Falmouth College of Art where, early on, he discovered clay and it has been his preferred medium ever since. After a knock out graduation show he was offered a solo exhibition and studio at the Nicholas Treadwell Gallery in London.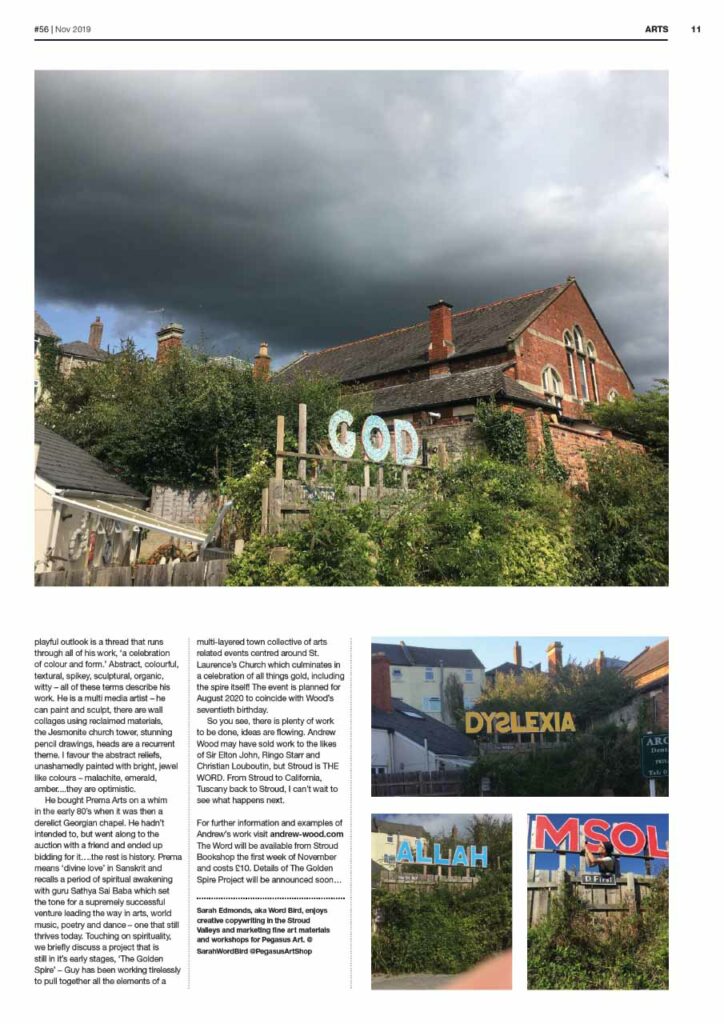 A tutelage with ceramicist Robert Arneson inspired a prolific period of work at the University of California offering a new perspective, inspiring pieces such as 'Narcissi' – a tongue in cheek comment on male vanity. This playful outlook is a thread that runs through all of his work, 'a celebration of colour and form.' Abstract, colourful, textural, spikey, sculptural, organic, witty – all of these terms describe his work. He is a multi media artist – he can paint and sculpt, there are wall collages using reclaimed materials, the jesmonite church tower, stunning pencil drawings, heads are a recurrent theme. I favour the abstract reliefs, unashamedly painted with bright, jewel like colours – malachite, emerald, amber….they are optimistic.
Founder of Prema Arts, Uley
He bought Prema Arts on a whim in the early 80's when it was then a derelict Georgian chapel. He hadn't intended to, but went along to the auction with a friend and ended up bidding for it….the rest is history. Prema means 'divine love' in Sanskrit and recalls a period of spiritual awakening with guru Sathya Sai Baba which set the tone for a supremely successful venture leading the way in arts, world music, poetry and dance – one that still thrives today. Touching on spirituality, we briefly discuss a project that is still in it's early stages, 'The Golden Spire' – Guy has been working tirelessly to pull together all the elements of a multi-layered town collective of arts related events centred around St. Lawrence's Church which culminates in a celebration of all things gold, including the spire itself! The event is planned for August 2020 to coincide with Wood's seventieth birthday.
So you see, there is plenty of work to be done, ideas are flowing. Andrew Wood may have sold work to the likes of Sir Elton John, Ringo Starr and Christian Louboutin, but Stroud is THE WORD. From Stroud to California, Tuscany back to Stroud, I can't wait to see what happens next.
The Word will be available from Stroud Bookshop the first week of November and costs £10.
Details of The Golden Spire Project to follow.
If you would like to commission a feature or interview piece like this one, please contact me here.